What is a Hi-Po?
Have you ever had a "good feeling" about someone in your organization? You know, a feeling that that person has something special?
Apply that same mindset to a high potential employee and you now understand what a Hi-Po is. Someone with high potential to do well in the business.
Take the case of Amed.
Amed had only been with the organization for a couple of months and already his manager was seeing that he had something special. He din't melt under pressure and he showed a bias for action.
He quickly learned the job he was hired to do. He was ahead of the curve expected of new employees.
And once Amed felt confident in his role, he started asking good questions. "Why do we do things this way?" and "If I had an idea for a better way would you be open to that?" and "How can I make things easier for the next person that comes on shift after me?"
How to Identify and Develop Hi-Po's
Hi-Po's don't all look the same.
Your Hi-Po might be a new hire, like Amed, that just seems to fit right in, get what needs to be done and is willing to jump in anywhere to lend a hand and is very keen to learn?
They ask good questions and seem to easily make connections between what they are doing and bigger picture business goals.
Or your Hi-Po might have been with your organization for many years and has been making their way through different departments and roles becoming a really well-rounded asset to the organization. Slowly gaining a variety of skills that you see can make them a great future leader.
Once you have identified a Hi-Po, you likely are very anxious to keep them!
Amed's manager said more than once, "I wish I could clone Amed!"
The best way to keep a Hi-Po engaged is to create a formal development plan with them. They want to see the potential path and what they need to do to follow that path. They like timelines, they like to know what they can expect if they are willing to put in the hard work. And all Hi-Po's are willing to put in the work!
What is Leadership Development?
Every organization will have a unique approach to leadership development, depending on their personnel requirements, the resources available, and the organizational culture. This can make the term difficult to define, since there are so many variations:
Does your organization have a mentorship program for young leaders? That's a piece of leadership development.
Do you offer special resources to high-potential employees? That's a piece of leadership development, too.
Is there a continuous learning budget available to leaders within your organization? That's a piece of leadership development.
Do you have a formal performance document that maps out skills an employee has and potential leadership paths they might want to consider once they gained more experience? That's also leadership development.
Instead of trying to define leadership development by what activities it may encompass, we find it's easier to describe what it does.
To us, leadership development is how organizations stay competitive by continuously improving the capabilities of their people.
If you don't have a formal leadership development program for Hi-Po's you may be putting your relationship with a valuable asset at risk.
Why Hi-Po Development Programs are Essential?
Millennials & Gen Z's are the most difficult employees to retain.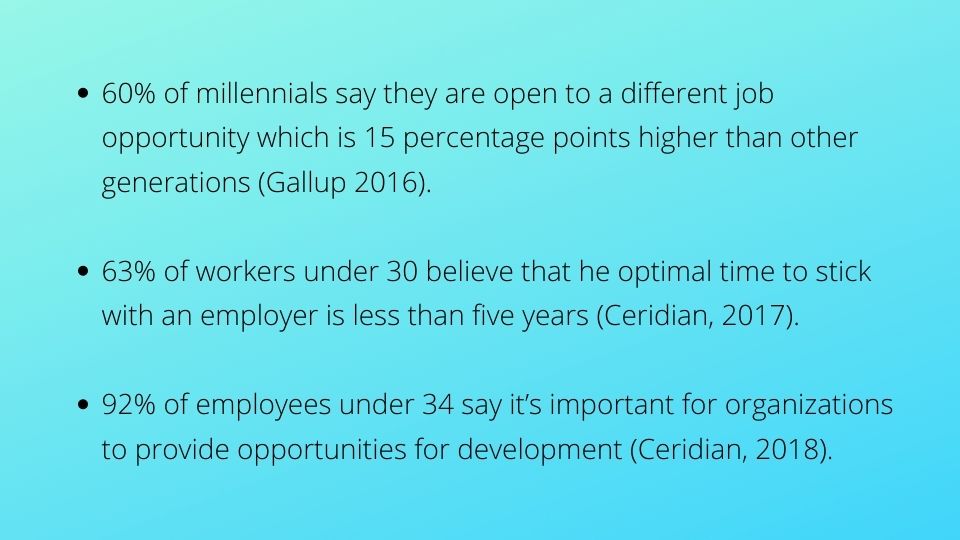 60% of millennials say they are open to a different job opportunity which is 15 percentage points higher than other generations (Gallup 2016).
63% of workers under 30 believe that he optimal time to stick with an employer is less than five years (Ceridian, 2017).
92% of employees under 34 say it's important for organizations to provide opportunities for development (Ceridian, 2018).
So, if you haven't engaged your Hi-Po in some kind of development program within the first five years you have a high probability of losing them.
If You Are A Hi-Po, What Can You Do to Promote Your own Development?
I'm working with a group of new recruits in a large international organization.
These young people are, eager, smart, talented and driven.
They are also overwhelmed with learning new roles, navigating corporate politics, trying to make their mark, trying to figure out where they fit in and where they should to focus their time and energy.
Most new hires are relying on people in the organization to support and guide them and yet, they still want to take responsibility for their own development.
Most already have a vision for 'the next role' once they master their current role and they want to know how they can elevate their skills quickly.
Relationship Skills Take Your Career to the Next Level
There are two main competencies that get you noticed…achieving results and relationship skills. You can achieve all the great results and meet the goals that are set in front of you, but if you don't have relationship skills you will not rise past being a very good individual contributor.
When we are working with the most seasoned of executives, they all agree that relationship skills are key to getting noticed and becoming a great leader.
How Are Your Relationship Skills?
Here's a quick assessment to explore your current relationship skills:
When you are in conversation with others do you listen more than you speak?
What do you do to create psychological safety with your team, with others?
How do you demonstrate your commitment to the success of those around you?
Do you encourage your team to challenge the status quo?
How often do you own up to mistakes and share failure?
Effective leaders build a culture of safety, trust and experimentation which then translates into everyone driving for excellence together.
James Zenger conducted a survey asking 60,000 employees to identify how different characteristics of a leader combine to affect employee perceptions of whether the boss is a "great" leader or not.
Below are some of the results.
Results-oriented leaders are rated as good leaders 14% of the time
People-oriented leader are rated as good leaders 12% of the time
Leaders with both strong results orientation and social skills are rated as good leaders 72% of the time
The combination of being able to be effective at driving results and building relationships seems to be the key for being perceived by others as an effective leader.
Relationship Intelligence
At Epiphany Coaches we have believe so strongly in the importance of relationship skills that we developed a tool and made it a mandatory part of our Hi-Po leadership development program.
It supports Hi-Po's, and other leaders, to hone in on the most important relationship skills that have proven to elevate leadership.
Influencing up, down and across is a core success factor for all leaders.
Relationship skills are also the 'secret sauce' for stronger results. Leaders who focus on these earn trust and respect more easily and are described as being more collaborative.
Conversation – a person high in this dimension has influence and impact in every conversation.

What impact do your conversations have?
Do other's feel you truly listen to them, or are you just waiting your turn to speak?
Do others understand your intention when you are having a difficult conversation or are they walking away wounded and confused?

Safe Haven – a person high in this dimension deliberately designs their conversations and responses to create safety and trust.

How are decisions made on your team?
Do people feel safe to disagree with you or bring out of the box ideas to the table?
How is conflict handled on your team?

Generosity – a person high in this dimension are optimistic and give their time and attention to help others succeed thus increasing organizational capacity and agility.

How are you demonstrating your generosity to others?
Are you more focused on collaboration or competition?
When was the last time you shone the light on someone else's accomplishments?

Candor – a person high in this dimension is good a bringing everyone's attention to the root of the problem. They have the courage to say what needs to be said, even when it is unpopular. They build clarity and speed in decision making.

How good are you at highlighting the 'truth' of a situation?
How often do you name the elephant in the room?
How do you support others by being truthful about their strengths and what might be holding them back?

Transparency – a person high in this dimension asks for help when they need it. They own up to mistakes and encourage others to do the same thus increasing connection, loyalty, and retention.

What does transparency look like for you?
How often do you share your mistakes with your team and encourage them to do the same as a way of learning together?
What scares you about being more transparent?
Developing your relationship skills can strengthen business outcomes, refine and elevate your leadership and engage you and your team in a more meaningful way.
How do you create Hi-Po development and coaching opportunities?
We took a poll of both leaders and teams to ask what they felt were keys to success in excelling in the virtual environment when it comes to being connected with the greater organization and developing leadership skills. Here is what they had to say…
Create virtual 'rules of engagement' – just like in a live meeting, get everyone on the same page with virtual etiquette. (i.e. Are we going to do camera's on or off? How are we going to structure the session so everyone has a voice? How are we going to use 'hand raising', chat boxes, etc.). Creating space in virtual meetings for individual contribution increase engagement.

Ramp up your listening skills and pay attention to tone of voice – tone of voice is the 'new body language'. Tone relays energy. One leader was sharing that she realized how much she made assumptions about her impact based on the other person's body language. She went on to say as much as you can watch someone's facial reactions, she is now more in tune with their tone of voice to tell her whether or not something has landed right or wrong or if they are really on board with what she is requesting. If you're not sure, ask questions of the other person so you leave the conversation with no assumptions.

Shorter, more focused learning sessions are more impactful – one team was sharing they "can't believe how much we get accomplish in an hour". When you limit the time frame it creates a focus on what's important right now." Narrowing the focus to one or two topics per session allows people to absorb, play around with and consider how they can implement new ideas quickly. This is especially important when working with Hi-Po's. They are eager to know the big picture, however having only 1 or 2 things to focus on can help them understand the right places to focus their attention.

More regular follow up creates high levels of accountability which is increasing productivity and effectiveness of leaders and teams. 'One off' training sessions impart information. A series of development sessions paired with 1:1 coaching, cements learning and changes behaviour. Having regularly scheduled follow-ups with Hi-Po's and offering them the opportunity to work with a coach keeps their engagement high and keeps them excited about the opportunities to learn and grow with the organization.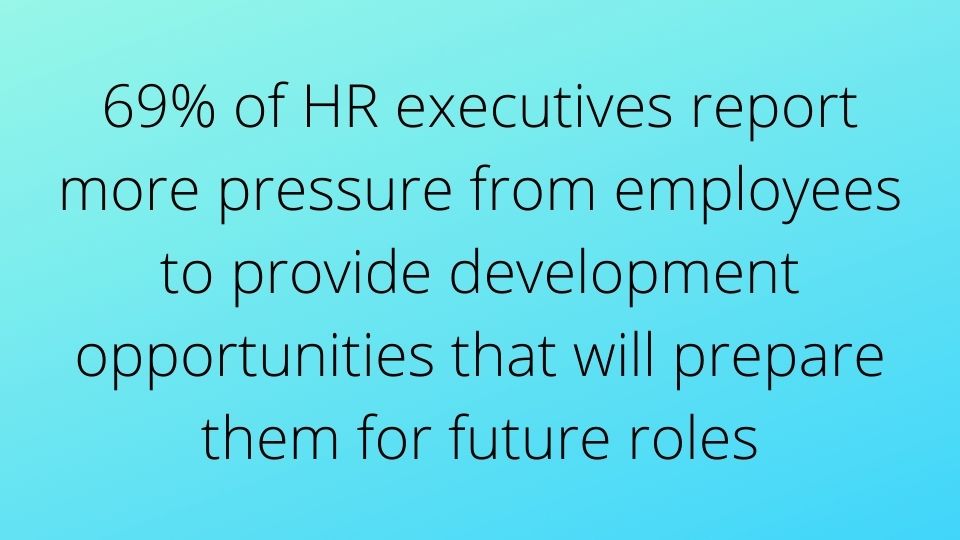 Gartner found that the dynamic skills approach (to learning) boosts other key talent outcomes as well, including a 24% improvement in employee performance and a 34% improvement in employees going above and beyond at work.
So just because people are working from home and sitting at their own desks does not mean you have to throw out your development program. In fact, now, more than ever, ramping it up is essential to increase retention and employee engagement, especially with Hi-Po's.
Ling is a young, eager and talented employee who has been working from home since she started eight months ago. She has never met her boss in person. She has never met her team in person. As one of many remote employees, her 'connection' with the organization is through a computer screen. She hasn't been to head office, or any other office. She doesn't get to make have chance connections with people in the cafeteria or the elevator. She doesn't get to feel and hear the energy of walking into an exciting, busy and thriving workplace.
She was sharing that this new environment has both saddened her in some respects and yet has opened up a world of opportunities that she did not know existed. "With this whole work from home thing happening, I could apply for a job with a company in another country if I wanted to," she quipped one day.
"What's keeping you at your current organization then?" I asked.
"We have this really cool leadership development program that my manager asked me if I wanted to be part of," she shared excitedly. "I'm going to get opportunities to mentor with senior leaders and get experience in a variety of business units and I'm going to get to work with my own coach! Cool, eh?" Then she added, "Even though I don't get to experience a physical connection with the organization yet, being in this program let's me see the potential opportunities that lie ahead, and it makes me feel good that they think enough of me to invest this kind of time and energy into me. I am definitely going to stick around a while to see how things turn out!"
How many Ling's in your organization are engaged, thriving and contributing?
How many are disengaged and looking for work elsewhere?
Investing in high potential employees makes good business sense!
If you are working remotely and want to develop your career, you might be thinking about they types of executive coaching programs (and executive setups) that can help you accelerate your career.