Health is a complicated facet of our lives that is hard to master even when we aren't dealing with all the changes and complications that come when moving into a home office.
It's hard to stick to a regular exercise routine, eat healthy, manage our stress, be successful at work, and show up for our family and friends regardless of the global climate. However, it is even more pressing to take care of our health and learn ways to incorporate healthy habits into our daily routines now more than ever.
Most of us have had to shift from going into the office five days a week to rolling out of bed and getting settled in our makeshift work-from-home office. Without the appropriate health promoting changes to our home environment and routine, this change could contribute to our deteriorating health.
By setting up your work from home space in a way that supports your health, you can not only flourish in the work you do, but finally begin to incorporate those health habits that you have been struggling to adopt far before this new routine began.
There are three broad categories of products that will help to promote better health from a holistic perspective:
The health of your musculoskeletal system is paramount to your longevity, pain prevention and management, and overall well-being. The musculoskeletal system (composed of your bones and muscles), is best supported by regular movement and ideal posture. Therefore, the products that will help support a healthy musculoskeletal system will help you engage in more regular exercise and promote a more ergonomic work space.
Next, you want to make sure that you're fueling your body appropriately so that you can feel energized throughout your workday, manage or prevent afternoon "crashes," and improve your ability to think clearly and perform your best. Products that help remind you to stay hydrated and make it more convenient to grab healthy, whole foods will help to ensure you have the energy to crush it at work and give you the stamina to play with your kids and spend time with your partner after work is done. You may even want to consider adding a supplement such as Alpha Brain to provide daily cognitive support and boost focus, energy, and mood. You can see an Onnit Alpha Brain review here if this is something you are interested in learning more about.
Lastly and perhaps most importantly, your health will greatly benefit from investing in products that help to manage your stress levels. Although each individual differs in terms of what helps them relieve stress, there are a few work-related products that can promote a more organized work schedule and office setup. This will help to make more room, both physically and mentally, for calmness throughout your day.
I have put together a list of 10 products that will help you stay healthy while working from home:
Supporting The Health of Your Musculoskeletal System
1. Mini Exercise Bike For Your Desk
Vive Pedal Exerciser for Under Your Office Desk – for Arm or Foot:
This mini exercise bike is the perfect way to ensure you stay active and keep your blood flowing and muscles working throughout your work day.
This Vive bike is particularly helpful to improve your motivation to exercise due to the screen display and free Vive Fit App, which give you information about your speed, length of workout, calories burned, and progress over time. This allows you to set daily goals for yourself based on those measures. Plus, the bike is completely silent while pedaling so you will not be distracted if you decide to pedal during a meeting.
2. Sit Stand Desk Converter
VIVO Black Height Adjustable 32 inch Standing Desk Converter – Dual Monitor and Laptop Riser Workstation: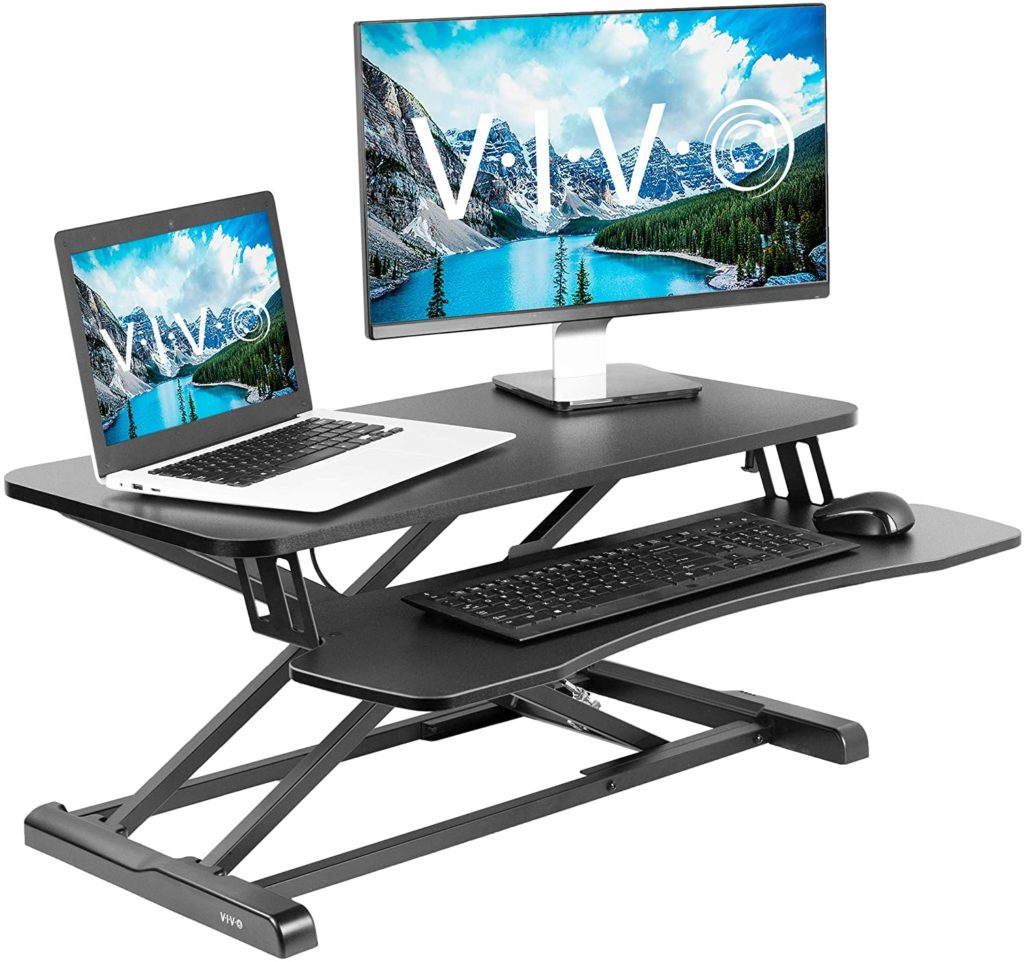 This sit stand desk converter is not only beneficial for its ability to convert your desk into a standing desk, but it also helps promote better ergonomics while seated by bringing up the monitor slightly to allow for a more neutral head/neck posture while looking at your screen(s). It has a height adjustable range of 4.5 and 20 inches so that you are able to stand up tall, promoting good standing posture while you work. This product is really great if you have a desk you already love, such as an l shaped desk.
Altering between sitting and standing throughout your day can help to mitigate any neck, shoulder, or back pain that comes from staying in the same position for too long. It also helps to increase your activity level by forcing you to activate your core and turn on your leg muscles when moving up and down.
Just having this product setup at your desk or work surface can grant you the ability and convenience of increasing your activity levels, improving your posture, and preventing and mitigating pain by simply setting goals to change positions (standing or sitting) every hour throughout your work day.
3. Ergonomic Desk Chair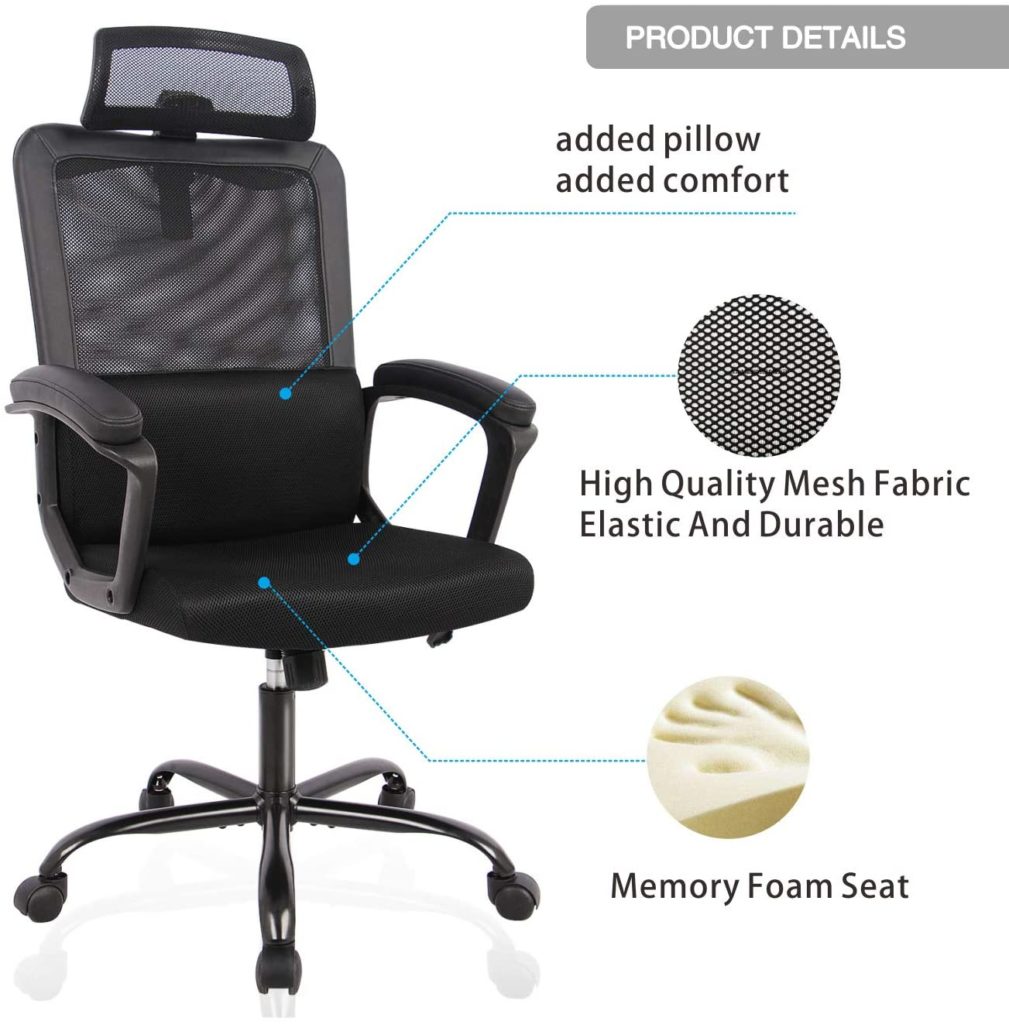 A good office chair has the potential to make the greatest impact on your musculoskeletal health being that this is where most people spend the majority of their work day.
This Smugdesk chair can help to ensure that your spinal alignment is optimal as you're working from home. This chair features a head rest, which can mitigate any pain you've been experiencing in your neck and shoulders after working for an extended period of time. By ensuring that your head is resting up against the headrest while you work, you can prevent yourself from assuming a forward head posture, which puts strain on the neck and shoulder muscles.
It also has a lumbar support, which can similarly help to prevent you from assuming a harmful postural position by keeping your back completely in contact with the curvatures of the backrest. Lastly, this chair has a tilt feature so that you can set your chair to maintain a tilted position, which effectively helps to open up your hips and relieve pressure on the spinal discs.
4. Resistance Loop Bands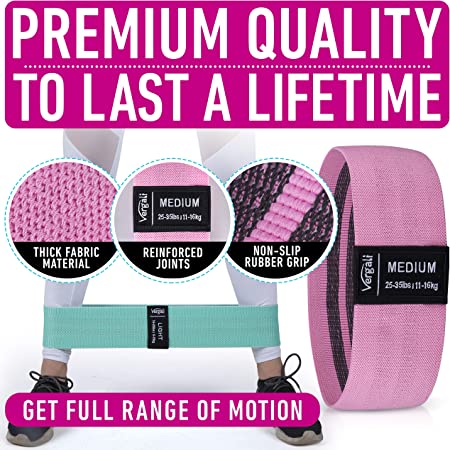 This is a piece of exercise equipment that is definitely worth purchasing and can help make exercising from home more effective. This pack of 4 resistance bands will allow you to easily add resistance to any body weight exercise.
You can strengthen your glutes while you're seated at your desk by simply putting a band above your knees and pressing your knees out and in (this exercise is called seated clam shells).
These bands can also help you measure your progress for certain exercises by allowing you to incrementally increase the level of resistance by using a thicker band as the exercise gets easier with practice. You can do this by selecting three exercises to perform 12 repetitions two to three times throughout your work day (example: seated clamshells, resisted shoulder external rotation, and glute bridge with a band), and progressing to a stronger resistance band as the exercise begins to feel easier.
Supporting Better Nutrition Habits
5. Meal Prep Containers
Prep Naturals Glass Meal Prep Containers Glass 2 Compartment 5 Pack: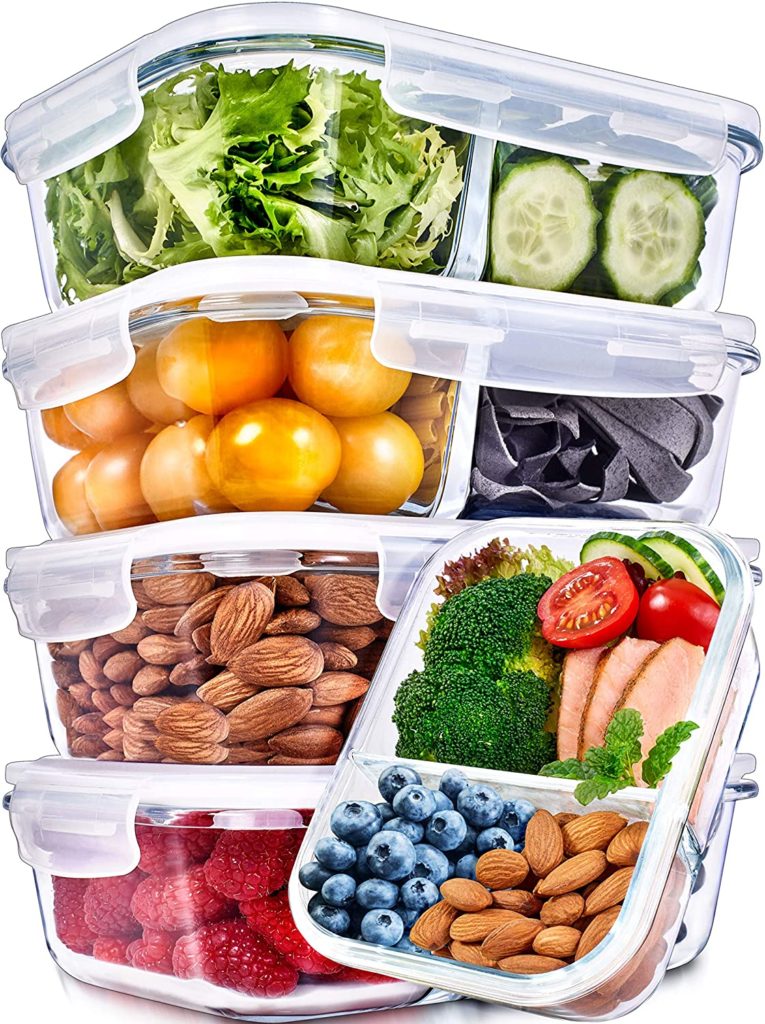 These glass containers are the perfect size to pack and store well-portioned healthy food options to have on-hand throughout your work day.
We all know it's super easy to forget to eat when we have back-to-back meetings, deadlines to meet, and maybe even your kids calling for your attention throughout the day. And then when you do finally remember that you haven't eaten all day, you grab the easiest, quickest, and probably not the most nutritious thing you can find. Sound familiar? Well if so, one way to combat this unhealthy ritual is to pre-package some healthy snacks or meals into these containers so that your thoughtless grab for food is guaranteed to be more nutritious.
You can pack these containers with whole, nutritious foods like fresh fruit, nuts, a slice of cheese, whole wheat crackers, or vegetables and dip. Either take the time to package these before the start of the week or prepare the next day's midday snack or meal the night before. This simple change will do wonders for your energy levels, mood, and mental clarity by helping you avoid major spikes and crashes in blood sugar that occur from fasting and then consuming highly processed foods.
6. Reusable Water Bottle
BuildLife Gallon Motivational Water Bottle Wide Mouth with Straw & Time Marked to Drink More Daily:
Staying sufficiently hydrated has a plethora of health benefits including improved energy levels, decreased sugar cravings, improved digestion, and many more.
Although it seems simple to drink water, staying hydrated (not with diet soda or sugary drinks – you can cut those out completely if you want to take your health to the next level) is an underestimated and neglected health habit that is essential to address in order to promote optimal health. The sensation of thirst often gets suppressed and ignored when we're stressed or busy.
Having a reusable water bottle like this one in plain sight while you work will help to make it more likely for you to pay attention to your thirst sensations and stay adequately hydrated throughout your day. The bottle also has time markers to encourage you to drink regularly, and helps you to finish a full gallon of water before going to bed!
7. Green Tea
Jade Leaf Matcha Green Tea Powder – Organic, Authentic Japanese Origin:
Green tea is the perfect mid-day pick-me-up and is a great alternative to consuming another cup of coffee. Green tea gives you a much more mild and steady boost of energy compared to coffee, and is rich in antioxidants.
This difference is due to the unique chemical makeup of green tea, which contains an amino acid called L-theanine that creates a calming effect in the body and reduces jitters. This means that your body will not trigger as great of a fight or flight response, which can be damaging to your health if chronically activated.
This organic green tea powder can be made into a delicious green tea latte in just a few minutes, as demonstrated in the video provided when clicking on the product link.
Supporting Better Organizational Habits and Stress Reduction
8. Planner
Planner – Daily Weekly Monthly Planner with Gratitude Journal:
Although using a pen and paper seems like an old-fashioned, inconvenient way to help you stay organized, using a planner like this one helps you set and accomplish goals, stay on task, and manage your time more efficiently, effectively helping to reduce your stress levels. Fear and anxiety often stems from not knowing how to accomplish something or what needs to be done in order to meet a goal.
By taking the time to form goals and write out what tasks you need to accomplish to get there, it makes your work more intentional and meaningful and your time spent more productively. This planner has weekly and monthly calendars, daily schedules, gratitude affirmations, along with other unique productivity-boosting prompts and pages.
If you can visualize your to-do's and essential work activities, you can also better determine where you may have some free time for an exercise break, a healthy meal, or just some relaxation.
9. Aromatherapy Diffuser
RENWER Essential Oil Diffuser, Remote Control with 7 Color Changing LED Lights & Waterless Auto-Off:
Aromatherapy is used in a variety of therapeutic settings for the purpose of fostering a sense of calmness and relaxation. This RENWER essential oil diffuser is the perfect addition to your work-from-home environment to help you feel calmer and less stressed with each breath.
It is also controlled through a remote so you can have it away from your immediate work space but still be able to reap the benefits. Be sure to use a calming essential oil such as lavender, rose, or chamomile in order to get a stress-relieving effect.
10. Desk Organizer
SimpleHouseware Mesh Desk Organizer with Sliding Drawer, Double Tray and 5 Upright Sections, Black:
A less chaotic, more organized workspace can help bring you a sense of calmness by helping you eliminate extraneous visual and spatial distractions. Having random papers and used up pens laying around can be hindering your ability to fully focus and think clearly, causing unnecessary stress.
Try using this SimpleHouseware Mesh Desk Organizer to organize your office space and help you build a work from home environment that is conducive to mental clarity and a sense of calmness. Using a desk organizer like this will allow you to keep those things that need your attention in plain sight and be able to locate whatever items you need throughout the day with ease and convenience. I think it also adds sophistication and would look really nice with a ladder desk or a mid century modern desk.
Recommendations Summary
I hope this comprehensive list of health promoting products will encourage you to establish a new, healthy routine while working from home. I have compiled the product list with prices into a table so you can easily pick and choose which items are worth the purchase (hint: all of them!).
Considerations When Adopting New Health Habits
Although a holistic approach (i.e. engaging in regular exercise, eating nourishing foods, and managing our stress) is key to optimizing our health, it can be overwhelming to make all of these changes at once. If you are feeling overwhelmed by the list of products and the health promoting changes that go along with purchasing them, I suggest starting with purchasing one or two products from each category to start.
Practice using all of the products you purchased consistently, each and every day you work from home. Once it feels like using those products has been firmly integrated into your routine, try purchasing a few more items to continue building new healthy habits.
For those experiencing more serious conditions, you might also want to consider purchasing a medical alert system like GetSafe to ensure help is always within arm's reach.
Your health is not something to be ignored or taken for granted, and setting up a work from home routine that helps foster a stronger, more resilient mind, body, and spirit will serve you in all aspects of your life.