The Ultimate Work From Home Survival Guide
Introduction
This Work From Home Survival Guide was written by three friends who have been working from home as a result of Covid.
We were all struggling in our home offices and with our respective jobs. Two of us lived in small apartments and one of us in a home.
Above all we needed to rapidly figure out how to construct space to work, how to manage remote teams and responsibilities, and how to demonstrate value to our bosses.
What started as a small side project to construct a work from home advisory site has expanded into a rapidly growing platform to help people tackle the same topics we needed to learn: namely, how to be a great, switched-on, and impactful remote employee and entrepreneur.
We are experts in the field of remote work.
Most importantly, we have experience hiring and running remote teams, managing complex remote work-flows, and preserving and protecting our physical and mental health during long days.
Even though we have expertise, we are still learning.
We have read everything about remote work we can get our hands on. We have reviewed companies, used products, and visited virtual work-spaces. In addition, we are familiar with the most important trends in remote work.
For that reason, we provide prescriptive guidance on how to avoid burnout, manage your boss remotely, and ways to make simple improvements to enhance the quality of your video calls.
We have gone broader too.
To demonstrate this knowledge we have done a deep dive into relevant materials pertaining to remote work culture (and how to sustain it) and great virtual team building exercises.
Most critically, how to manage your career if you see your peers, boss, or senior management in person less frequently.
Working from home is a great opportunity.
Certainly, it is also a new career path.
This form of work is potentially risky with uncharted outcomes you will need to manage.
Since this guide will help you navigate the most important topics you will face as a remote worker, it is exhaustive and targeted.
We hope you find this a useful companion.
I follow this guidance and it has worked to my benefit. I hope you are able to experience the same results.
Are you eager to start working from home? Check the jobs available right now.
Home Office Setup
Having a proper workstation is a key ingredient to working from home effectively. If you are going to be working from home on a consistent basis, it's important to make this investment.
Moreover, a proper home work environment will improve your productivity, increase your physical health, and convey professionalism to your work colleagues when you are on video calls.
Since many people have been thrust into working from home with no prior warning or experience, I wanted to document certain purchases I've made and share what I have learned with you.
Of course I use the following metrics for the list:
Price: I've forgone certain bells and whistles in an effort to keep costs low. But, that is not to say that I won't pay a small amount extra when there is far better value to be had. Price matters, but quality + utility matter too.
Quality: You often get what you pay for, so I opted for known brands like a Dell monitor and Logitech mouse as opposed to the random assortment of 3-star reviewed items on Amazon.
Health. Don't sacrifice your health for money, only to use that money in the future to recuperate your health (I'm paraphrasing the Dalia Lama there). Instead, I advise you to invest in your health early and often – your future self will thank you. Thus, I included things like a laptop stand (better neck positioning) in my must have list and an ergonomic chair and sit-stand desk in my nice to have list. It's less apparent, but in the long run these are money saving purchases.
Our recommended products are below. As an Amazon Associate, we earn from qualifying purchases made on these products.
Here it is, my ultimate guide to setting up your home office while on a budget.
The Must Haves
1. Sit-Stand Desk
Comhar All-in-One Standing Desk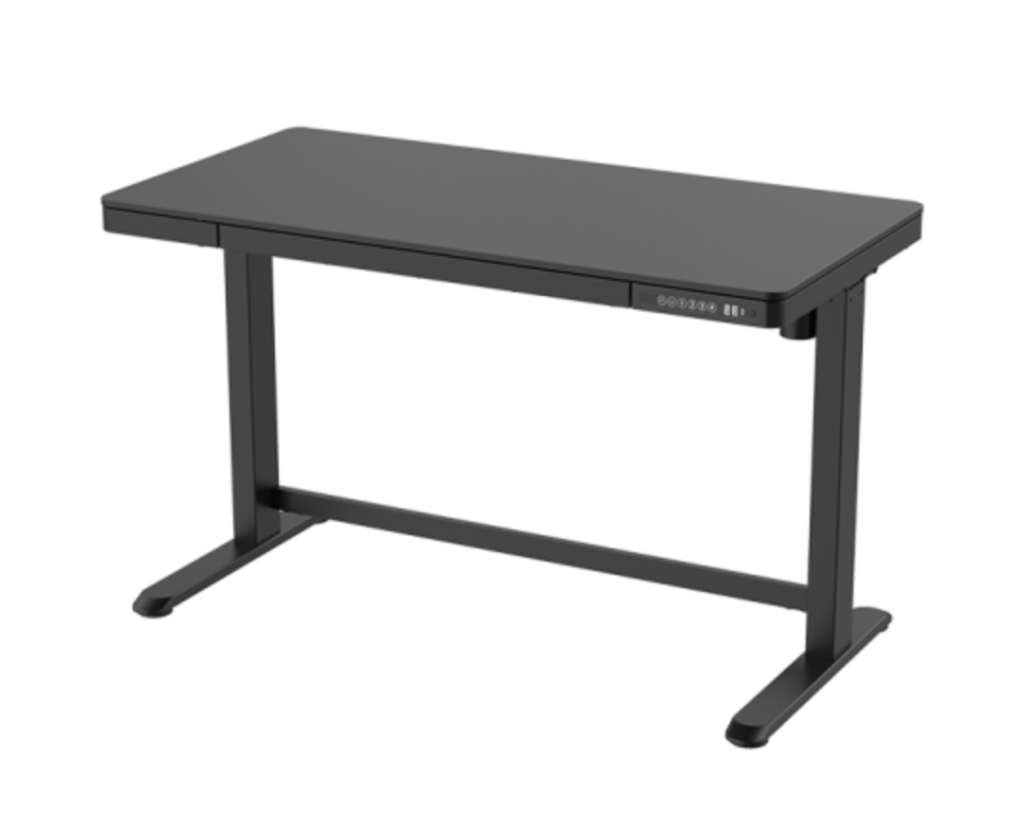 This will be one of the best investments you will ever make. This sit-stand desk is built to last, high quality, and large enough to support your laptop plus two additional monitors. This is an investment in your health as well. Standing for just one to two hours per day, for example in remote stand-up meetings, will drastically improve your spine, shoulders, and neck.
At around $400, this is a great deal! I personally use the Jarvis sit-stand desk but it is admittedly a lot pricier. There are also even cheaper sit-stand desks on the market that you could look into but I am putting an emphasis on quality and sticking with this one by Flexispot. For the very frugal, buy a very simple table and a standing desk converter.
---
2. Ergonomic Chair
Ergonofis YouToo Ergonomic Chair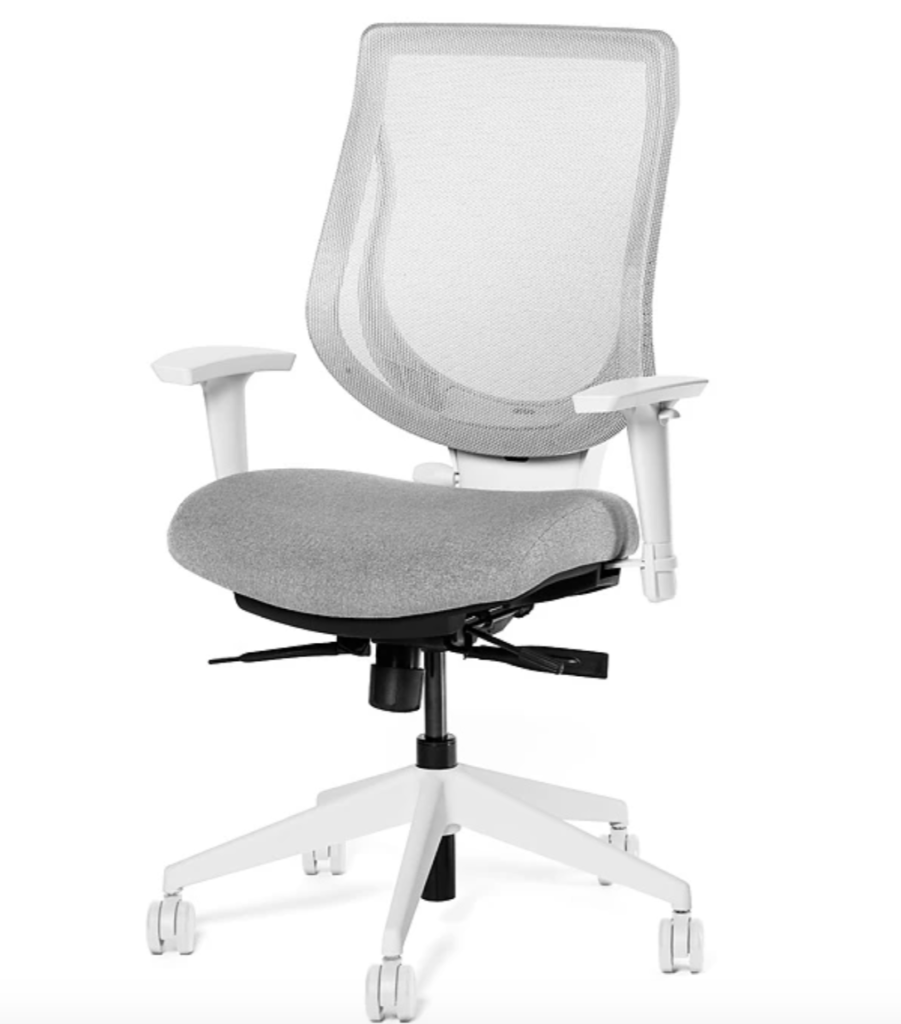 Again, this is an investment in your health. Unless you're going to be standing all day at your desk (be honest, you won't), you should invest in a good office chair that will support your whole body.
This YouToo chair has tons of ergonomic settings and lumbar support to get the perfect fit. The mesh backing and padded seat cushion are also major bonuses.
---
3. Monitor
A second monitor is absolutely essential to your productivity at home. It is definitely the first thing I bought when I set up my workstation at home.
I personally use a Dell model that is 27 inches, but this Dell 23.8 inch model with thin bezel (just a fancy word for frame) will work well for anyone out there getting set up. It is cheap and has a modern design to it. Most importantly, it's a Dell so you know it's great quality and is built to last.
---
4. HDMI Cable
AmazonBasics High-Speed HDMI Cable, 3 Feet
No bones about it, you will need an HDMI cable to connect your laptop to your monitor. This was the cheapest one I could find that didn't look like a scam on Amazon. If you think you'll need a longer cable, you can get the 6 foot model for less than a dollar more.
---
5. Laptop Adapter (Dongle)
USB C Hub Multiport Adapter – 7 in 1
Many PC and Mac laptops will need an adapter (or known as a dongle). It will act as the middleman between your HDMI cable and your computer.
I am on a mac and use the USB C Hub Multiport Adapter. It's great, gets the job done, and has extra usb ports that I utilize for my mouse and keyboard. A bunch of my coworkers who have two additional monitors for their macbook use this one since it has two HDMI ports.
---
6. Keyboard
Aluminum USB Wired Keyboard with Numeric Keypad for Apple Mac
As I mentioned already, I'm on a mac so I got this generic keyboard that has the apple keypad. If you go on Apple's site and want to buy their apple brand keyboard, it will cost you $130 for the space grey option.
I've been using this generic version for about six months and it has worked just fine. I feel extra happy while typing on it knowing that I saved 90 bucks! If you are on a pc, there are actually even cheaper options that will work for you.
---
7. Mouse
Logitech M705 Marathon Wireless Mouse
I've used four mice in the last year, so I'd like to consider myself an authority on it. I used to use a simple two button wired mouse from dell which is a great and super cheap option.
I've also used a few other cheap wireless bluetooth mice but I kept getting frustrated when the mouse would disconnect or take a moment to reconnect due to the bluetooth connection. I finally landed on the Logitech M705 because it's wireless which I love, but it connects via a USB receiver which has never crapped out on me and always makes for a stable connection. I also have larger than average hands, and this mouse conforms to my right hand really nicely.
---
8. Mousepad
I'm sure there are cheaper mouse pads out there. Heck, if you are that cheap, just don't get one and make peace with hearing your mouse slide around the desktop surface all the time.
Personally, I'm willing to pay five bucks for a decent pad that allows my mouse to track a bit better and reduce the noise.
---
9. Laptop Stand
A case can be made for foregoing this purchase and using a stack of books. But as a seasoned worker who cares deeply about my health, I want to implore all of you to use something to raise your laptop.
Tilting your head down a few more degrees can cause significant stress on your neck and back and cause long term health problems. Do your future self a favor and either get a laptop stand or set up some old textbooks.
---
10. Headphones
Apple EarPods with Lightning Connector
You'll want a pair of headphones to take calls on. You'll get a better sound quality that pipes directly into your ears, and your colleagues will thank you since the microphone will be right next to your mouth instead of all the way at your computer.
---
The Nice To Haves
1. Air Purifier
While air purifiers don't serve any work productivity functions, they are important for your overall health – especially if you live in an urban area.
If your home office is in your bedroom, that means you are spending upwards of 16 hours each workday breathing the air from that single room.
Purchasing an air purifier will permanently keep toxins and pollutants out and keep your air pure. I personally use a Coway Airmega 400 because it has a larger square foot capacity. Be sure to buy a larger one as well if you are in a room that's greater than ~200 square feet.
---
2. Desk Lamp
Ivy LED Desk Lamp with USB Port
I added a desk lamp as a nice to have only because oftentimes I find myself at my desk later in the evening and would really prefer not to turn on my overhead lamp to light up my workspace.
I like this one because it's cheap and has a usb charger for my phone. There are plenty of other lamps on the market for roughly the same price if this style isn't your cup of tea.
---
3. Computer Glasses
J+S Vision Blue Light Shield Computer Glasses
For the seasoned tech worker who stares at a computer 8+ hours a day, these glasses really do help.
They block a lot of the blue light that monitors and screens emit, keeping your eyes less dry and healthier.
---
Mental Health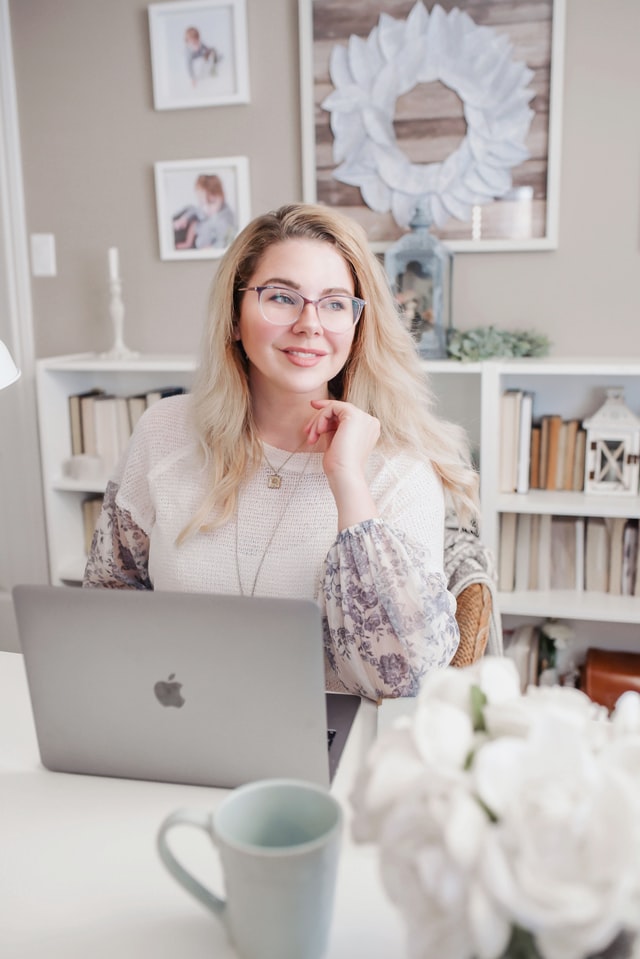 How many times do you feel totally and completely burned out while working from home? If you are like many Americans, the answer is a lot. Why is this the case?
We no longer need to commute.
And we don't have to dress up fo work.
We can avoid seeing in the office on a daily basis we don't enjoy.
Yet the work hours are longer than ever. The typical 9am to 5pm day is a remnant of the past as Zoom calls start earlier and end later.
You should care about your mental well being. If you don't start prioritizing your well being immediately.
Mental health is not just about feelings of depression or stress.
Mental health is the degree to which you feel composed, confident, and optimistic. If you wake up with anxiety, or can't sleep because of it, you have an area for life improvement. One way of avoiding sleep deprivation and protecting your mental health is by picking the right mattress for your good night's sleep.
A low risk way to avoid burnout – and therefore maintain your mental well being – is to set boundaries. Here are some approaches to set boundaries:
Set calendar work times
This is an easy setting to adjust in both Google Calendar and Outlook. Don't let people schedule you early or late. Avoid taking meetings that prevent you from sleeping. Ensure your room is dark enough and relaxed enough to actually get high quality sleep tool. Also ensure you have enough lighting at your desk so you are not working in the dark. Set work hours and block off time before and after these hours that you can't be booked.
This should be a no brainer but is all too often overlooked.
Would a United States Senator or successful CEO show up to a meeting without a clearly defined agenda? No.
Neither should you. Give yourself permission to not waste time in meetings without a clear agenda. This will give you valuable time back in your day.
Say "no" more often
Must like point #2, don't waste your time doing things that don't add value – for your firm or yourself.
I once heard an interview with Warren Buffett and he said something that I will always remember.
He said the difference between moderately and highly successful people is that the latter is better at saying "no."
That's it.
Above all, don't get overextended.
Give yourself space to turn down events, meeting requests, or recurring calendar invites that waste your time, cause you stress, or don't add value.
Try a bold scheduling experiment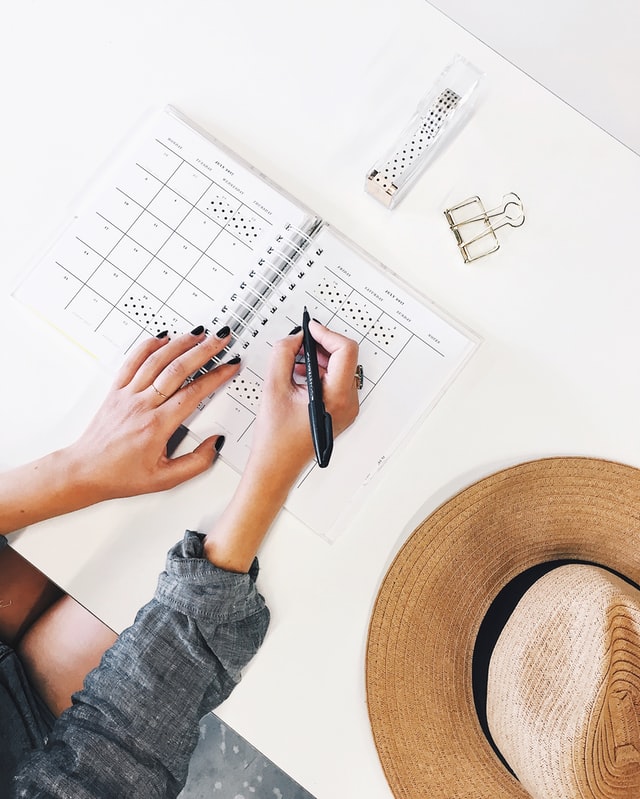 I have a colleague who blocks his entire Friday and doesn't let people schedule meetings on this day. Why? Because he wants room to breathe. He needs time to do work and catch up from his hectic week. When I first heard that he did this I was shocked. I thought it was akin to him being available only for a four day work week. Guess what? It became second nature at some point for him and the rest of us. Now I do the same. Try it out and see how it makes you feel. Your mental health might just improve as a result.
Always bring an agenda with you to meetings
This action not only demonstrates that you are prepared but it will help your peers see that you are action oriented and can show a bias towards action.
For instance, by bringing an agenda you are being purposeful and providing clarity as to your aims. This can reduce stress for your peers as well. If you can empower your staff they can help take stuff off your plate. This, in turn, will help provide you with more freedom and space to operate.
Take breaks
Take "you" time. Disconnect. Exercise. Go for walks. Book a flight with Jettly and relax on that longed-for vacation. Spend time with your loved ones over meals. Whatever works for you.
Take the case of Jeff Bezos, the founder and CEO of Amazon.
He once said there are three kinds of ways to make money: jobs, careers, and callings.
For most people reading this, you likely have a career. You have some specialized skill or insight that the market pays you for. If you are very lucky, you have a calling.
But most of us show up at work because we get paid to do so.
If you are feeling stressed while working from home don't forget this hierarchy. Your job is not your life.
Your manager likely won't be at the most important and meaningful events that happen in your life (your wedding, the birth of your children, your funeral).
Lastly, your boss shows up at work because he or she needs to earn money too.
So keep work in perspective.
Take a vacation to the Caribbean, start a new hobby like knitting, read the latest NY Times Bestseller, and generally enjoy things outside of the confines of your home office.
Most importantly, mental health is about protecting your mind and your spirit.
If you want to feel better while working you need to optimize for your well being.
If you don't, who will?
Start by setting boundaries on your time. Protect your time like the highly valuable asset it is. Say "no" more often and practice saying "no" often. A great baseball player does not swing at every strike.
Neither should you.
It is not only empowering but it will give you space to do more impactful things with your time. These higher value actions will hopefully give you a greater sense of purpose.
Experiment with your time management. Come prepared to meetings to inspire others to do the same.
Take breaks and be flexible.
And lastly, remember that life is more than work. Keep up with your hobbies and make sure you spend time doing other activities than work. Even if you are staying in your home more than usual, you can still pursue your hobbies (like a in-home golf simulator if you're a golfer!)
These multidimensional approaches will keep you healthier for the long term. That is what should matter most to you and is my parting wish for this section.
Physical Health
We partnered with physical therapist, Riley Ehrlich, PT, DPT to write various guides around your physical health. Below are a variety of ideas related to your physical health, with an emphasis on posture and what exercises you can do from the comfort of your own home.
Career Management
Upward Management
We all know that career management is a particularly important topic to get right.
How we manage our careers impacts our compensation and pay.
It also impacts our responsibilities, our real and perceived value, and the ways in which we can grow.
A critical dimension of career management is how we engage with our boss, our boss's boss, and other relevant internal and external stakeholders.
Career management is a unique challenge for remote workers. Right now, as most companies keep staff at home, the delineation between remote versus office workers is small.
But one day, in a post-Covid world, people will likely be branded as a worker who primarily works from home or one who works from an office.
When I worked at Google I was able to get promoted a few times and part of that success was because I engaged with, communicated to, and managed my senior management.
When it comes to upward management, it doesn't matter what your title is or what kind of work you do. You need to do it often and you need to get it right.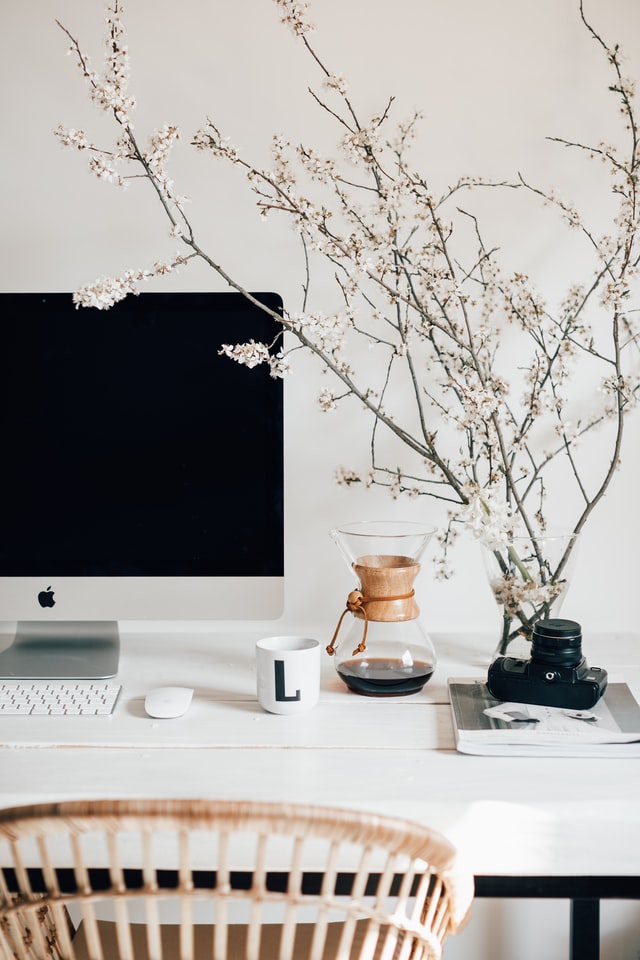 What matters is how often you communicate, what you communicate, and how you and your work are perceived by those that will ultimately promote you and advance your career interests.
Here are useful and highly relevant actions that you can take to improve your upward management while working from home.
First, ask yourself the following: how often am I speaking with my manager? If the answer is less than once every week or two you are not engaging enough.
You need to own upward management: this starts by scheduling time to engage in conversations with your boss.
Be proactive and show a bias towards action. Schedule a weekly or bi-weekly calendar invite, attach a video conferencing tool to the invite, and ensure you have virtual face time.
Secondly, prepare an agenda before meeting with your manager. If you are serious about upward management, you need to come prepared to every engagement with your boss with a clear call to action and relevant information. You can only do this if you prepare ahead of time. Every. Single. Time.
The CEO of a Fortune 10 technology company was once a SVP prior to his promotion to Chief Executive Officer. Before he met with his predecessor he spent one hour in silence reviewing notes, creating a formalized agenda, and clarifying his asks.
I always copy his approach. You should too.
Never show up at a meeting with your boss (and in particular a private meeting) without an agenda, a clear set of actions you want to discuss, and a plan.
Assume that your boss is very busy and manages complexity: complex people, processes, and revenues or products.
Demonstrate leadership by mitigating complexity and owning the simplification of your one-on-one. 
Take notes. Assign action items. If you want to move up in your company, be an owner. If you are going from entry level to mid level, or mid level to executive, you can accelerate your progress by thinking long term and never sacrificing long-term value for short-term gains.
Never say "that's not my job."
If you want to move up in your company you need to be right a lot. Demonstrate strong judgment and good instincts. Seek out diverse perspectives and work to disconfirm beliefs using data. You can do this all from home. But it takes extra effort and focus.
Lastly, you need to convey relentlessly high standards.
Even when working from home you can raise the bar and make meaningful business contributions. You can suggest ideas, show customer obsession, communicate clearly and at scale, and improve your team's processes.
If you follow this guidance you will be able to contribute more value. This value, over time, will lend itself to your upward mobility and progression.
The process starts with preparation. Demonstrate your abilities to your manager. The Art of War teaches us that "in the midst of chaos, there is also opportunity."
By recognizing that your boss has much on his or her plate, you can better deliver value.
A holistic approach to upward management starts by creating an alliance with your boss, who will be needed as your champion.
Through this alliance you will be better prepared to own your career and the inevitable ups and downs that come along the way.
This is particularly true for the home office worker as you likely won't be the recipient of daily or informal watercooler feedback.
Prior to Covid I could have a quick lunch or coffee with my manager and understand his mood.
I could ask probing questions to better understand what his boss wanted and the broader needs of the business.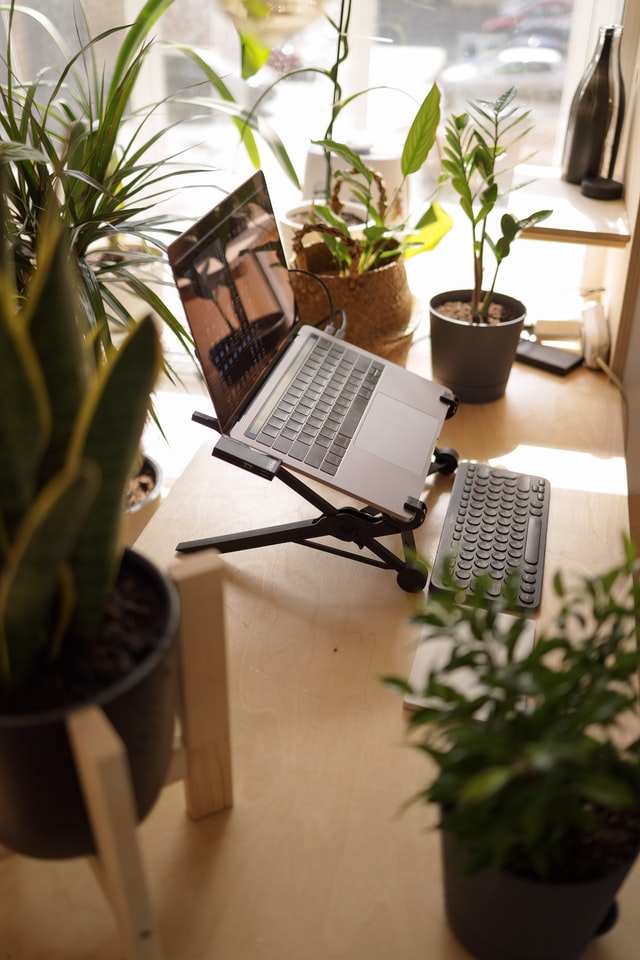 Covid – and remote work more broadly – has changed that. I have not seen my manager in person in over half a year. We speak less and enjoy far less banter.
When working from home you need to manage the communication flow as a critical part of your upward path. Share what is relevant, ask questions that help you better understand the business, and use these insights to make informed and action oriented decisions.
By following this guidance you will be well served.
At the very least you will be more cognizant of the needs of those around you and how to better help your peers and management.
Managing Teams
The writers of this document have had wonderful and not so good bosses. If you are a new manager, you should take time to understand how to manage a remote team and the particular challenges to leading remote workers.
First: there are different stages of remote worker management.
I want to start by addressing how to onboard remote employees. If you are a manager you are either new yourself or a veteran of the firm.
This is an important distinction because you either know a lot (veteran) or are on the bottom of a steep learning curve yourself (newbie). There are pros and cons of both positions.
The veteran knows the internal tools, systems, teams, politics, and rules of engagement. He or she can pass these on to remote team members. This is an obvious pro.
The con is that veterans all too often suffer from a lack of empathy and might gloss over details when explaining a new product, technical stack, or work-flow to a remote new hire.
In short, they might presume that the new remote worker will "learn by doing."
If you are new to a company and you are managing a remote team (or you yourself are remote) it is critical to establish trust rapidly. Oftentimes trust is built in person – through meals, shared adventures, or common interests.
I am on many video calls that start like this:
Question: "Where are you dialing in from"
Answer: "Denver"
Response: "I love Colorado, it's so beautiful and has great skiing"
Why is this dialogue taking place? Because we are social beings and want to demonstrate that we have things in common with other people.
New managers are hired because they are leaders. But leading doesn't necessarily mean that you, as a new manager, have superior knowledge on Day 1. That might be your blindspot.
The pro of being new is that you can empathize with other new colleagues you might be hiring. This is particularly true of remote staff.
My favorite comedian, Robin Williams, once noted: "there is still a lot to learn and there is always great stuff out there. Even mistakes can be wonderful."
To the new manager: you will make mistakes with remote workers but you can mitigate those missteps by doing a few things often and a few things well:
Demonstrate vulnerability and a desire to know your team as people
I had a manager who was ignorant of who I am as a person. She rarely checked in on me and didn't know what motivated me. I know little about her because she was a closed book.
Do I respect her? Yes.
Was she a decent boss? Yes.
But was she great at what she does? Not even close.
What separated her from being better? Her lack of a willingness to engage with me as a person made her feel aloof and distant.
Speak with your remote teams and be inclusive. Ask for the feedback and buy-in.
Solicit their guidance. These gestures add up, and they matter. Lastly, recognize that we are not working from home.
We are working from home during a pandemic. Check in on your people like they matter. Because they do.
Leaders are never done learning and always seek to improve themselves.
If you are a remote manager you would be wise to be curious about new possibilities for your team and act to explore these curiosities.
Set the bar high so that you teams see that you are willing to celebrate wins, improve where needed, and dig deeper to improve productivity.
There is a very high chance that your remote teams have hardships in their lives.
Maybe they feel isolated.
Maybe they feel fearful about their job security. Perhaps they are caring for an aging or sick loved one when not online.
Never stop finding ways to empower your teams. Be helpful. Learn by asking questions and learn by being empathetic.
Hire great people.
This seems so obvious but is all too often overlooked. How often do you hear people say something like this: "He or she is horrible, who hired them?"
Well, at some point in time someone thought it was a good idea to bring that person in. When you are managing teams remotely, fight extra hard to attract and retain great talent.
Leaders raise the performance bar with every hire and promotion. Recognize exceptional talent and celebrate it.
Take this role seriously.
I recently got an email that people in my organization were promoted. The Director who shared this information said that sharing this news was the single most enjoyable part of her job. I believe her. Do you share this sentiment?
Deliver results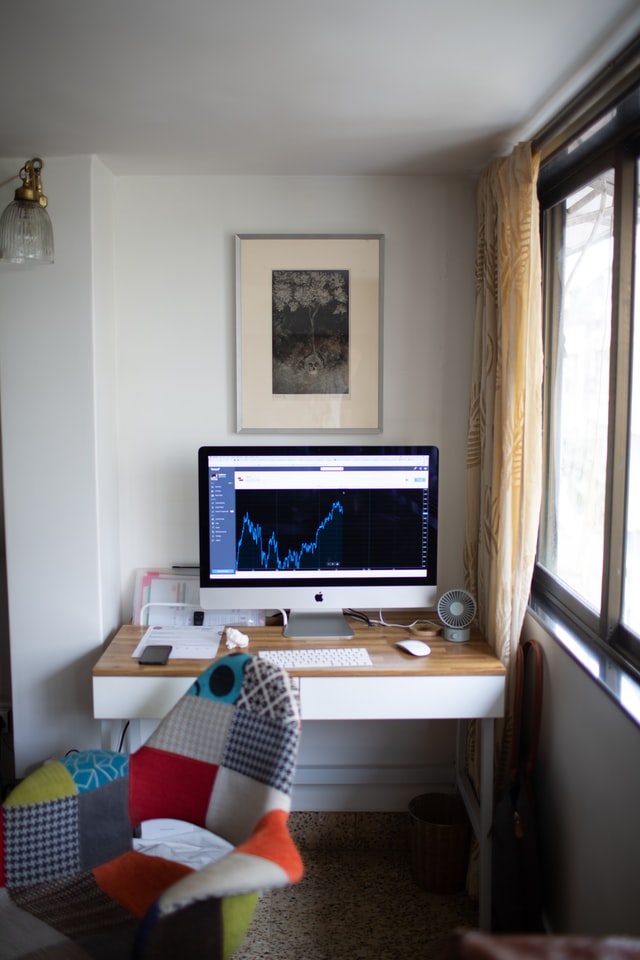 I once had a manager who was "great at playing the politics game". You all know the type. He would add comments in documents and emails late at night to create the illusion of being a hard worker. He would plan offsites to increase his visibility.
In reality, this person added very little value to the team or business.
This person failed the number rule of management: deliver results.
Figure out what metrics matter to your business, and ensure that you are performing well in that domain.
Don't just meet expectations, exceed them.
And do so over and over and over again.
Trust is an equation. I believe trust equals results times consistency over time. It's that simple.
Deliver predictable results over a period of time and you will be trusted.
Staying engaged with peers/stakeholders
Quick: answer the following. How often do you speak with your colleagues on a repeated basis?
How often do you speak with people at your level (horizontal) or above or below you in your business? If the answer is not often, you can and should change that. Today.
I once got feedback along these lines. "Everyone thinks you are doing a really good job, but in the performance review a few managers didn't really know what you were working on".
I hate that feedback.
This falls squarely on me and violates a number of critical rules I have articulated above.
Namely, all aspects of remote work and success stems from verbal, written, and visual communication.
Show up. Send emails. Take meetings with your camera on. Don't multitask meetings. Don't eat on Zoom calls. Be proactive and send calendar invites to people to check-in.
Be present
Ask what you can do to help your peers.
Helping others is critical to your success. University of Pennsylvania Professor Adam Grant thinks this concept is the single most important determinant of career success.
He has a set of words to describe it. He calls it: "Give and Take".
Give and take is a powerful framework for ensuring small wins, frequent buy-in across stakeholders, and alignment with people who can help spot your blindspots.
Recently I deployed a new technique and it's working great. You should copy it.
This is what I did. I sent a recurring bi-weekly calendar invite to peers with a simple agenda and a Zoom link.
The meeting is only 20 minutes long and if we need to push it back we easily can.
But by having dedicated time and an agenda, we are forced to get together, discuss ideas, and share.
Remote work can be isolating. It can also be made harder because of knowledge silos. If you are not meeting regularly with your colleagues you are making a mistake.
Not engaging your peers leads to large costs.
Let me explain these costs if you are not yet persuaded.
The first cost is what I call technical debt. You are gliding along and coding (or building, or doing whatever you do for work) but not actively engaging with your peers.
Then one day you need their help. What do you do?
You don't have context. Neither do they.
You likely can't earn their trust by requesting transactional assistance. By not engaging earlier you have acquired a form of technical debt.
The second type of cost is an opportunity cost.
If you are not speaking with your peers regularly you are missing information that you might not even know is helpful to you.
In other words: unknown unknowns. You don't even know what you don't know. This is a pernicious form of ignorance and your peers can help you reduce it by speaking, writing, and conversing about personal and work topics.
If nothing else do these things:
Schedule a bi-weekly calls with your peers, even if for 20 minutes.
Show up and be present. Ask questions, gather information, and learn.
Be helpful to your peers. Lend a hand. Be generous.
These behaviors will help you and your colleagues in ways big and small, reducing technical debt and opportunity cost.
Video Call Professionalism
Why include a full section on video call professionalism? As a remote worker, video calls are the only visual and audio representation you are transmitting of yourself.
It plays a very powerful role in how your fellow employees view you.
Putting your best foot forward is crucial if you want to uphold a strong sense of professionalism with your manager and fellow teammates.
Here are the key items that I've documented after numerous discussions with friends and colleagues on the subject:
Show up on time
While seemingly obvious, many people don't follow this basic rule. Being continuously late to meetings is a passive signal that you don't value your other coworkers' time as much as your own.
And if you make it a habit of showing up late, I promise you that your coworkers (and probably your manager) take note of it.
Start the meeting on time
have a rule of starting meetings no more than two minutes past the start time.
This sends a message to people at the meeting that you value their time.
Staying consistent at this is important. When you start meetings on time and people show up late, they quickly get the message that they need to be more accountable.
Keep your camera on
Keeping your camera on shows people that you are present and engaged. It also allows for people to see your body language.
After all, a lot of communication is non-verbal.
In addition, seeing each other's faces adds more personalization – and while most people are working remotely, chances are they are craving a more social and personal touch.
Good lighting
If you look like you are in the witness protection program while on video, you should find a new location to take calls.
No one is asking for hollywood style lighting, but at a minimum, people should be able to see your face.
Share Dial-In info in case people have bad wifi
Most video conference software have dial-in info. This will allow people to call in via a phone number in case they are experiencing bad internet.
Don't Eat On Camera
Eating on camera looks unprofessional. Whenever possible, try to find time to eat in between meetings.
If it's becoming a problem where you can't find at least 20 minutes to pause and eat lunch, that is likely indicative of a larger problem.
Are you being overworked? Is your company too meating-heavy? Are you not managing your calendar effectively?
As a side note, I've been on plenty of late afternoon calls with a familiar audience where it's plenty acceptable, and even encouraged, to have an alcoholic beverage during the meeting.
These meetings are more geared towards team cohesion. My point is: read the room. And if you are unsure, err on the side of no food/beverage.
Add a password to your zoom meetings
If you are using zoom, it is dead simple to add a password to your meeting room(s).
I learned this the hard way once, where a random person entered my meeting room during an important meeting where I was sharing my screen.
Luckily, everyone laughed it off. Don't let this be you when presenting an important deck to higher-ups. It takes less than 5 minutes, just do it now.
Invest in a good headset with a noise cancelling mic
These headphones are great. The microphone has built-in technology so that it doesn't pick up extraneous noises. Meaning, if the neighbors, dog, or kids are making loud noises – your coworkers will be none the wiser. Most of these headphones we reviewed have built-in noise rejecting mics.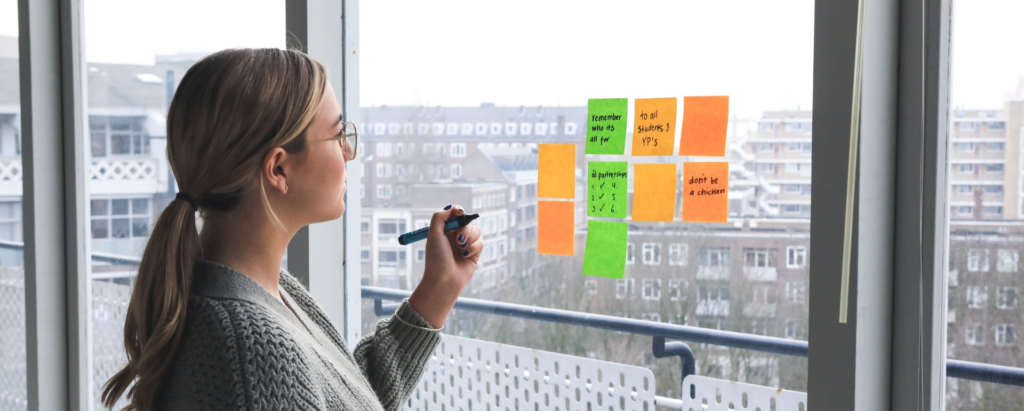 Team Management
In the Agile framework for project management, there are a variety of built-in team meetings that help facilitate teamwork and communication.
Perhaps the most important meeting is the team retrospective.
This gives people in a small team (usually no more than 10) to discuss how things have been going the last two weeks.
What went well? What could be improved?And what action items should we take to make those improvements?
If you are not already setting aside time to hold a team retrospective, I highly recommend doing so.
As a certified scrummaster who runs these on a regular basis, I believe it is the most important meeting. This is because it is the tool in which you can openly converse and affect change.
Afterall, progress and good ideas boil down to just a series of conversations that led to it.
Thus, it is important to carve out time to have these conversations. You will be amazed at what your team can accomplish this way.
It also promotes a healthy form of team feedback.
For instance, instead of singling people out when it comes to areas of improvement, the emphasis is always on how the entire team can affect change and improve.
Remote Team Building Activities
There are numerous ways in which you can still promote positive company culture while working remote.
While in-person happy hours at the local pub aren't a viable option, there are a variety of ways to promote positive communication and team bonding.
Here are a few of my favorites:
Guess The Workstation: This is just like the game where you match the baby photo to the adult. It's a lot of fun, and requires one moderator to get the photos from people ahead of time. I ran this with my team and got excellent feedback from my peers.
Virtual Cocktail Class: What's the next best thing to going to a bar? Bringing the bar to your home. There are lots of companies that offer a virtual bartending class. They ship kits to homes and give detailed mixology lessons. Many places offer a variety of themes – your employees will have a blast!
Virtual Workout Class: I do a workout class once a week with colleagues online and I love it. One personal trainer leads the class and generally kicks our butts for the full hour with intense body weight workouts. I used to play in corporate basketball and soccer leagues. But while everyone is remote, this is a great alternative.
Online Codenames: This is the online version of the classic board game: Codenames. Codenames is a game with two teams where a member from each team acts as the "spymaster". The spymaster gives one-word clues to their teammates who try to guess what words the spymaster is referencing from a list of about 20 words. It's a great game to test the communication strength between work colleagues. There are a few different online versions that help facilitate the game very well.
Remote Work and Innovation
During periods of remote work, it might be harder to innovate.
You will likely take an increasing number of meetings online or on the phone.
These forms of communication come with some potential pitfalls.
First: online calls might not allow you to develop the same rapport with internal or external audiences.
You need to be extra mindful of body language and the nuances of what is being communicated. Sometimes this is challenging over Zoom.
Second: it's possible that other people don't engage as much or participate well in virtual meetings.
Take extra care to hear out opinions from people who might not be as vocal on their video calls.
This goes for internal meetings, interviews, and client engagements.
There will be times when leaving your home to engage with internal or external stakeholders is the right thing to do.
I recently helped a friend plan his resignation from a company he had worked at for many years.
I advised that he leave his home office and communicate in person with his manager to ensure that he was leaving on good terms.
In person get-togethers, when they are safe and practical, are powerful and compelling.
Use in person get-togethers as diplomatic ways to advance your interests, forge deeper connections, or ensure alignment.
You should try to meet your virtual colleagues at least once a quarter or engage in a Happy Hour once every few weeks to keep the social bonds strong.
Once great benefit of virtual calls (especially during Covid isolation) is that most of your peers will be available during business hours.
Gone are the days of work travel and flights.
Your internal stakeholders should be present at once.
An additional note about in-person versus virtual gatherings.
It is clear that people can work effectively when remote.
Far less clear is if people can create and innovate at the same scale while working remotely.
Be mindful of this as this as a lack of creativity might be a blindspot for you or your teams.
Frankly, the data is too early to show powerful trends here. Many CEOs of creative firms, like Netflix's Reed Hastings, believe that all virtual work will harm their cultures of creativity.
Google famously started to serve meals to staff to increase discussions and collaboration in informal environments.
Being remote can hamper these moments of creativity.
When meeting in person you can engage in natural dialogue and politely interpret others.
People can respectfully interrupt you.
And you can read body language easily.
With remote meetings one person speaks and all others listen.
Interrupting or asking clarifying questions mid-sentence is considered poor form.
This is especially so when wifi is choppy or people can't get their mics or cameras to work.
How firms incubate innovation – or develop new technologies, build new systems, or drive business improvements – might be far harder in a remote world.
So get out of your home office when possible.
With this in mind, engage with others when inventing is your primary desire.
While we have discussed big tech firms like Google and Netflix, these rules hold true for SMBs as well. Igor Avidon, founder of Avidon Marketing Group, says the need to invest in his team's happiness & growth to drive innovation has increased since going remote. Now is more important than ever to reinvest and focus on your staff's connectedness.
Mobility and Taxes
If you are working from home you likely fall in to a few categories:
You are self-employed.
You work remotely for a company.
You are the founder of a company and either the firm is composed of remote staff or you are leading it remotely.
You are currently unemployed but determined to find a remote job.
If you are in one of these buckets you might be curious about how different states in the U.S. stack up on variables that lend themselves to remote work and your income. If you have switched from being an employee to self-employed during this time, you should be aware of withholding taxes that were automatically withheld from payroll when you were an employee. Now that you are self-employed, you will be responsible for withholding your own taxes at the end of the year
We likely all care about slightly different aspects of life (i.e. local culture, weather, geography, proximity to our family, access to human capital, etc).
Given this, we tried to stick with mostly quantitative and verifiable metrics: tax rates and money.
If you are looking to start a remote company, an additional variable you might want to consider is how many patents have been issued to creators (or patent holders) in your desired geography.
Why?
Depending on the type of firm you want to start you might want to be near other smart people.
Geographic density might make finding a co-founder easier.
California has the lion's share of patents filed in the U.S.
According to the Tax Foundation, states have different tax rates for different sources of personal and business income.
If you are a remote worker you likely care most about types of work you can do from your home and how much of the money you earned can flow into your bank account.
Taxes can be applied at the corporate or individual levels, and are subject to property and sales as well. Every tax will impact your take home savings and income.
If the property tax is very high, as it is in New York state, your home office might be very pricey to work from.
If you want to start a company you will need to be mindful of the corporate tax rank in which you are domiciled.
Here is a table of American states sorted by their overall rank.
This table factors in different taxes and how these taxes impact you as a remote worker.
I love having this data at my fingertips to make informed decisions.
[table id=1 /]
In addition to thinking about taxes and income, your work from home experience will be greatly impacted by the cost of living.
Here is a list of large cities, sorted by the highest cost of living, that many remote workers call home.
If you are going to work remotely for the years or decades ahead, you might want to consider how you are compensated and the current index of your chosen home.
It is highly likely that large technology companies, for example, will reduce net wages to index your compensation to local costs of living.
Google is an obvious example of a firm that I foresee doing this. They use data to make informed decisions about compensation and pay based on averages pertaining to local labor rates.
What does this mean?
If Google hires an engineer in their Mountain View Headquarters, that engineer will cost them more to employ than that same engineer in New Hampshire. The cost of living is lower in New Hampshire, as are tax rates.
Firms are embracing the shift to hiring and empowering remote staff for many reasons.
Some of the reasons frequently referenced include increased workforce productivity and access to new pools of talent.
One reason that is cited less frequently (but is seemingly as important) is that shifting to a remote labor force will significantly reduce a firm's costs.
Before changing cities – or buying a home in a new locale – make sure you understand the cost of living index.
Even if you don't understand this, your firm will. And there is a reasonable likelihood that your employer changes its compensation model to reduce costs as more staff goes remote.
Here is an organized list of cities by rank (a formula tied to cost of living index, the rental index, and food costs).
Remember that you'll only benefit from moving to a state with low or no income taxes if you can prove your residency there.
If you spend fewer than 183 days in your new state, you'll still have to pay the income taxes you were subject to in your previous home state.
[table id=2 /]