Starting a dropshipping business can be a great way to build a lifestyle business with the potential to earn passive income. But it's not always easy to get started, and there are a lot of different factors to consider.
That's why I wanted to share my Drop Ship Lifestyle review – a course that promises to give you everything you need to know to start and grow a successful dropshipping business. In this review, I'll cover what the course entails, how it can help you, and whether it's worth the investment.
After reading other reviews online, I realized most of them were written by reviewers that didn't actually have access to the full course or they were totally outdated. This review is based on the most recent version of the Drop Ship Lifestyle.
Why am I the right person to give you a review of the different sections in the DSL course? The best way to review a system is to actually use the system. I took the DSL free training in 2016 before purchasing the full high ticket dropshipping course and building a successful business that same year. Let me share with you what I learned then and how the program is now.
What Is Drop Ship Lifestyle And What Does It Teach You?
Drop Ship Lifestyle (DSL), created by Anton Kraly, is an online ecommerce course that teaches entrepreneurs how to build an online store and earn an income using the high-ticket dropshipping business model. By following Kraly's practice-tested methods, you will be able to take advantage of an ever-growing industry, learning how to create an automated system that sources products and fulfills orders, while also gaining an understanding of marketing and sales tactics.
Below are some of the important sections in the course:
Niche selection module
Market research
Product selection
Drop ship suppliers
Website creation
Shopify design
How to get traffic
Digital marketing
Google product listing ads
Social media platforms
Optimizing for conversions
Outsourcing and automation
You also have access to bonus training and content including the "7 Week Quick Start Guide" and the "21 Day Launch Plan".
The main difference between DSL and other dropship courses is that Anton's method focuses solely on high-ticket products rather than inexpensive items. Drop Ship LifeStyle was established in 2013 and has been recognized as the "Best Ecommerce Course" by Shopify. Lots of DSL students have used it to grow their businesses and achieve financial success.
How Much Does The Course Cost and What Do You Get For Your Money?
The Drop Ship Lifestyle Course has two options to get started, the Premium and the Ultimate packages. Both of these courses give you access to exclusive content, videos, email scripts, DSL app, live coaching calls, and an invitation to join Anton at the yearly Drop Ship Lifestyle Retreat where you can pick his brain and meet other successful entrepreneurs from around the world.
Let's take a look at what's included in each package.
The DSL Premium package
Drop Ship Blueprint
Step-By-Step Training
Priority Email Support
Members Only Community
Niche Validation
The DSL Ultimate package
Drop Ship Blueprint
Step-By-Step Training
Priority Email Support
Members Only Community
Niche Validation
Done-For-You Web Design
Done-For-You Content Marketing
Private Mentor
Both of these packages give you a complete education centered around dropshipping. Anton's online course takes you from niche selection and market research to creating your website, getting drop ship suppliers, and optimizing for conversions. You'll also learn how to get traffic and automate your systems so you can achieve a flexible lifestyle.
As of Jan. 1, 2023, the price for the DSL Premium Package is $3,997 and the DSL Ultimate Package is $9,997.
Both of these packages come with a 30-day refund policy as long as you have put in a serious effort to make the process work. For a full refund, you must make it through selecting a niche, finding suppliers, and building your website.
On a positive note, Anton's course is constantly being updated with new content containing the latest information and data from his own store's experience. The current DSL V7 has evolved significantly from the previous versions when I first took the course. I still review the new and updated modules to keep current on the most up-to-date information.
Is Drop Ship Lifestyle A Scam Or Is It Legitimate?
Drop Ship Lifestyle (DSL) is an incredibly popular course, and many people are interested in whether or not it is legitimate. I can personally say that DSL is NOT a scam. I've been through the program and was able to build a successful dropshipping store using his methods. To date, my Shopify store has surpassed $6M in revenue.
If that's not enough proof, there are loads of testimonials and success stories from other students who have actually tried it out, and the reviews are very positive. The curriculum and suite of tools involved in the DSL course has helped to make many people's lives easier and more successful than ever before. Drop Ship Lifestyle offers the potential to provide real results, provided you put in the hard work and effort yourself.
Drop Ship Lifestyle (DSL) has been around for over a decade people from all over the world have taken their 7-week course and come out with positive reviews. While there are some negative stories scattered about, they are dwarfed by the success stories of those who have gone through the DSL course.
DSL definitely deserves your consideration as it's been around for quite some time now and has garnered a good reputation due to its highly successful alumni.
Who Is The Founder Of Drop Ship Lifestyle And Can You Trust Him?
Anton Kraly is the founder of Drop Ship Lifestyle, and you can definitely trust him! Anton has been involved in the ecommerce industry for a long time and is one of the most successful people in the dropshipping space.
Anton launched his first eCommerce store in 2007. His success with that store and others required him to create standard operating procedures (SOP) for his own company to succeed. After lots of trial and error, he found that his streamlined approach to building and scaling eCommerce stores allowed him to grow exponentially.
In 2012 he created the first version of the Drop Ship Lifestyle. Soon after his step-by-step course was born and his community of entrepreneurs grew in 30 countries to over 14,000 members.
Anton has a wonderful family and his mother is always at the retreats along with his sister who is the head of custom website designs for DSL. Anton's success speaks for itself, so if you want look to someone who knows what they're doing when it comes to dropshipping, Anton Kraly and his team should be your go-to source.
Success Stories From People Who Have taken the Drop Ship Lifestyle Course
The Drop Ship Lifestyle course has been a great success for complete beginners looking to create their own ecommerce store. Stories abound of people who used the high ticket dropshipping course and achieved incredible results ranging from becoming financially independent, to building a profitable business that provides sustainable income over time. Testimonials from many dedicated dropshipping students highlight the dramatic improvements in their quality of life these successes have created.
I, for one, started a store from scratch and have surpassed $6M in revenue. It wasn't an easy journey as I was also working a corporate job for the first 2 years of building my store using the DSL dropshipping model. However, I was able to create a profitable store that has been in business for 7 years and now has a team running the day-to-day operations.
Here are a few other testimonials about the DSL program:
"We love having an online company that gives us that freedom to pick up and live anywhere in the world. If we want to live somewhere for a month or two, we just do it!" – Josh & Iria, United States
"I went from my first sale to 6-figure month in SEVEN MONTHS. In my Pre-Drop Ship Lifestyle, I was selling $3 cookie cutters on Ebay, now I have a team of VAs while running a semi automated store while spending time with my family" – Carla, Australia
"I went from the London 9-5 corporate world to achieving location independence and starting a drop shipping business from scratch with no prior experience and growing it to a million dollars within the first year." – Lewis, United Kingdom
"Drop Ship Lifestyle has changed my life in a positive way. I was stuck in a job for ridiculous hours everyday and don't have time for my family but Drop Ship Lifestyle has given me freedom and lifestyle that I can choose." – Pratik, Canada
The Anton Method has an impressive track record of success from others as well. Real-world feedback confirms many success stories from those who follow the process in his comprehensive course and approach starting an ecommerce store with realistic goals and ambitions.
Are there any negative reviews or complaints about Drop Ship Lifestyle?
Drop Ship Lifestyle has active community members who weigh in on all aspects of the platform.
Although active online communities typically have their fair share of complaints and negative reviews, the overall sentiment from Drop Ship Lifestyle reviews is overwhelmingly positive.
Most students are happy with the DSL 7-week training program that not only teaches you how to start an ecommerce business from scratch but also provides a lot of people in the DSL community that provide additional assistance. You can find active conversations in the group's Facebook page discussing everything from niche selection to shipping challenges.
Despite any occasional grumblings heard on occasion, it appears that most customers invest in Drop Ship Lifestyle with confidence and with no regrets.
Is The Drop Ship Lifestyle Course Worth It?
The Drop Ship Lifestyle course is one of the most comprehensive online courses on dropshipping and eCommerce. It will teach you everything from finding suppliers and building your store, to running successful Facebook ads and scaling your business.
Whether it's worth the cost depends on the effort you put in while building your online business. The course comes with a hefty price tag, but it is worth every penny as it could easily make you back that amount (and more) when you implement its teachings.
Founder Anton Kraly has been dropshipping since 2008 and is absolutely an expert on the subject. He's also very down-to-earth, relatable, and trustworthy – which makes this course all the more enjoyable (and effective). Thousands of students (including myself) have taken the Drop Ship Lifestyle Course and gone on to build successful businesses using its strategies.
If you're serious about learning how to dropship and start making money online, I highly recommend checking out this course.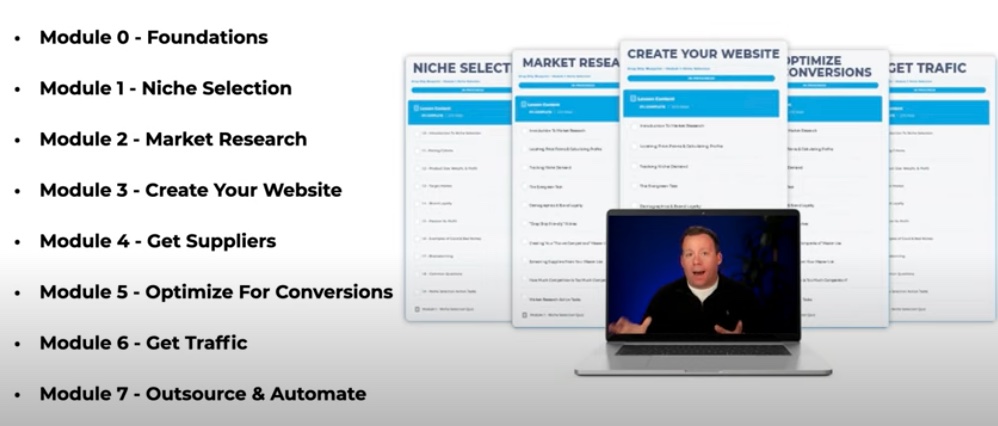 What's the final verdict on the DSL course?
As with any business, it's a much smoother journey if you follow a roadmap of a successful peer. It's important to take advantage of outside resources available to guide you and help you make sound decisions.
Take the time to read up on the strategies that have worked for them, and see what you can learn. Then apply those lessons to your own business plan. As you gain experience and make changes, you'll be able to refine your approach and eventually develop a successful strategy that works best for your organization.
For anyone starting a high-ticket dropshipping store, the roadmap option seems clear. With the Drop Ship Lifestyle's comprehensive course, you'll learn everything there is to know about mastering the art of high-ticket dropshipping. Don't wait any longer – click here now to see if DSL is right for you!