If you're looking for a profession that allows you the flexibility to work from home, consider becoming a real estate agent! With the advancements in technology, it is now possible for individuals to secure a real estate license from their own home. This option has become increasingly popular as many people prefer the convenience of working from home and being able to manage their own time without having to commute to an office or school.
With minimal qualifications needed, this is one of the most accessible professions today. In fact, right now there are an estimated three million individuals in the United States holding active licenses as agents – so why not join them? There's no time like the present to begin taking steps towards achieving your dreams!
Obtaining a real estate license may not be overly complex, yet it is no stroll in the park. However, if you understand the procedure and do things correctly, you can secure your real estate license right from home with ease!
What Qualifications Must Be Met to Apply for a Real Estate License?
Getting a real estate license may be a path you are interested in following and, if so, there are a number of base qualifications you must meet first. To become a basic salesperson, you must qualify by:
Being at least 18 years of age
Having completed at least 135 hours of relevant real estate coursework from an approved list based on the state you're in
Must have passed the final exam for the real estate agent license
Completed a background check
For those who want to take their real estate career a step further by applying to become a broker after achieving their real estate agent license, there are addition qualifications to meet. In addition to all of the above which is required to secure a real estate agent license, you must also:
Have worked at least two years as a real estate agent within the last five years or have a relevant degree
Must have completed 360 hours of real estate coursework
Must pass a differing final exam
Must go through another background check
How Long Does It Take to Get a Real Estate License?
Depending on the state you're in, securing a real estate license can take longer or shorter. However, for most individuals, it takes around six months to secure a license. However, the process can be handled entirely from the comfort of your own home considering that online courses are available.
For those who are hungry and eager to get started in real estate, the process could be completed in as little as a couple of months. However, be sure you spend adequate time learning everything there is to know about the field before applying for your final exam.
Applying for a Real Estate License: Every Step You Need to Take
While the steps required to get a real estate license can differ slightly from state-to-state, the steps to obtaining a California real estate license are relatively simple:
Determine if you are even eligible to apply for a real estate license in the state of California or the state you are currently living in. You must have a social security number or taxpayer identification number to prove your identity. Out of state applicants can still apply, but there are additional qualifications that must be met.
Sign up for three accredited real estate courses. Two required courses are Real Estate Principals and Real Estate Practice. The third course you are required to take can vary from:
Real Estate Appraisal
Property Management
Real Estate Economics
Real Estate Finance
Legal Aspects of Real Estate
Escrows
Business Law
General Accounting
Real Estate Office Administration
Any other listed course based on your area
Once you have completed all your coursework and passed any final exams related to those courses, you can complete an application to take the exam and license. This application can be completed online.
Next, you need to submit your application and pay any associated fees. These fees range based on the state you're in. If you are applying to take the exam only, it will be $60 in California, but if you are applying for the exam and application then it will cost $305.
Once approved, you will have an exam scheduled. This exam is computer-based, meaning you can take it from the comfort of your home, but it is typically proctored.
Your license will be issued if you pass the test and you can begin practicing in real estate.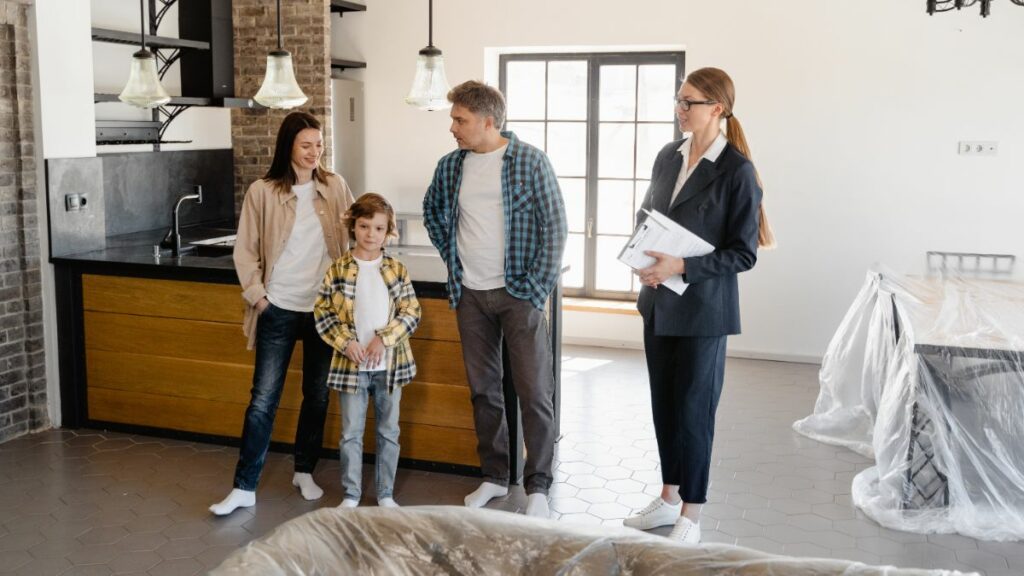 Can You Work from Home as a Real Estate Agent?
Real estate agents must be available to respond quickly to inquiries from clients and prospective buyers. This means that having access to the internet is essential, regardless of where you are working from. Working from home allows agents the flexibility they need while providing their clients with a high level of customer service.
One reason people often choose to go into real estate and become an agent is because they are their own boss to some degree. While agents do work for a brokerage firm in most cases, your schedule is your own. This means that you can work from home as a real estate agent, provided you show up to open houses or other in-person events related to the job.
In order to work as a real estate agent from home, you will need to have a few basic tools. First and foremost, access to a computer with internet capabilities is essential for success. Additionally, you will also need an ongoing education in the real estate field. As laws and regulations change regularly, agents must stay up-to-date on those changes in order to provide the best service possible.
Real estate agents must also be able to market their services from home in order to find new leads and clients. This usually entails some combination of online marketing, email campaigns, and print marketing materials. Being organized is also important for success when working from home as a real estate agent. Keeping track of appointments, client information, and any necessary paperwork is key to keeping your business running smoothly.
Tips to Succeed in Real Estate
Before entering the field of real estate, there are a number of considerations to keep in mind. As mentioned, you are your own boss in this field which means your success is your own. With that in mind, here are some helpful tips to succeed in the field:
Have a mentor ahead of time who is willing to work with you through the process
Start building your network ahead of time
Reach out to your friends and family who can start telling people about your new business
Learn everything there is to know about real estate agents
Consider whether pursuing a broker license is something you are interested in
Place a focus on building your book as soon as possible
The Bottom Line
While securing a real estate license may not be the right path for everyone, there are millions of Americans who have decided that getting a real estate license is their path. Having a license and succeeding in real estate are very different things, however, so learning any and all tips that can help you beat out the competition should be a top priority. By utilizing some of the advice outlined above, you can expedite the process of securing your license and build a successful career in real estate.