Are you working a corporate job that you hate? Are you tired of the 9-5 grind and wanting to start your own business? If so, high-ticket dropshipping may be the perfect solution for you! Dropshipping is a great way to start an online business with very little startup capital. And best of all, you can do it all from the comfort of your own home.
In this blog post, I'm going to show you how I got started with high ticket dropshipping and how you can too. I cover everything from finding your niche to setting up your store. So if you're ready to take the plunge into entrepreneurship, read on!
What is Dropshipping?
Dropshipping is a business model in which merchants (you) don't keep any inventory. Instead, you partner with a dropshipping supplier or wholesaler who stocks the goods and ships them directly to the customer when an order is placed. You can sell items to customers without ever handling the product themselves and still make a profit.
Dropshipping can be a great way to start your own business without the overhead of stocking and storing large inventories. In some cases it also eliminates the need for managing and shipping the orders as the distributor may handle the shipping.
Here's the general process for a customer ordering from a seller's dropshipping store:
Customer visits website
Customer orders product(s)
Customer pays for order
Seller (you) reviews order
Seller sends order to distributor
Distributor confirms order
Distributor ships order to customer
Distributor sends invoice to seller for payment
Seller pays distributor
Seller notifies customer that order shipped and provides tracking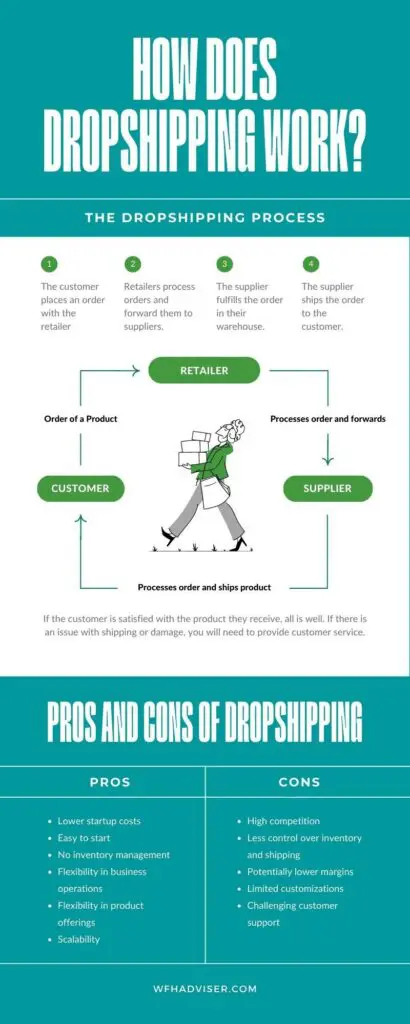 What is Low Ticket Dropshipping?
Low ticket dropshipping is a form of e-Commerce business model in which the seller (you) sells items that are typically lower-priced than those found on traditional retail websites. Low ticket items could include toys, accessories, books, and more.
Low-ticket dropshipping depends on selling a high volume of low-cost items. Many traditional dropshipping stores buy cheap products from sources such as AliExpress or another third-party supplier and then depend on impulse buys from ads on Facebook or Instagram.
Here's an example of Google Advertising for low-cost coloring books: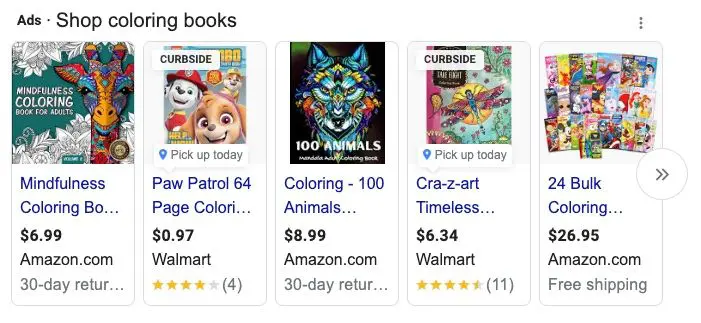 I started my first store selling lower priced pet products. It was a competitive market and the profits were very small. Because of that, I had to work extra hard to sell at volume to make a profit. While you can have a successful online store selling low ticket products, there is a better way!
What is High Ticket Dropshipping?
High ticket dropshipping is a type of e-Commerce business model in which the seller focuses on high-priced products. Think about it – if you are building an e-Commerce store, you are doing the same amount of work whether you are selling low-ticket products or expensive items. If you are going to put in the effort, you may as well sell higher priced items that have higher profit margins.
Here's an example of Google Advertising for high-ticket kegerators: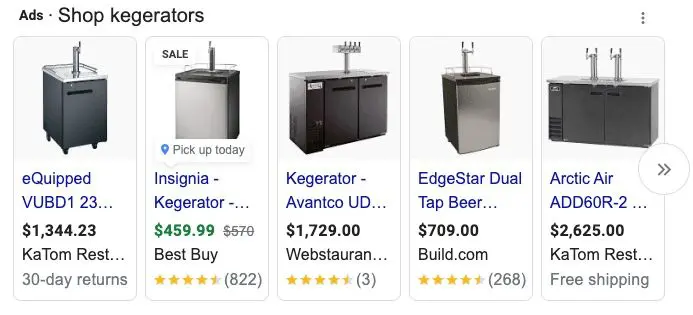 This type of e-Commerce business can be highly successful as it requires minimal investment, and can be done from almost anywhere with a computer or tablet. It is an attractive option for those looking to get started in the e-Commerce world without having to make large investments in inventory, or pay expensive overhead costs such as rent and utilities.
Additionally, it allows the seller to focus on marketing their products rather than dealing with the back-end logistics of a brick-and-mortar business. The cons of high ticket dropshipping is that it can be difficult to find reliable suppliers willing to drop ship their high-priced items.
Opening a high-ticket dropshipping online store in 2023 is still a very viable opportunity for long-term profits. Consumers are shopping online more than ever and often prefer working with small businesses rather than large box stores.
If done correctly, high ticket dropshipping can be a great way to earn income.
Lots of people wonder how does high high ticket dropshipping work? Let's look at the basics for starting a high ticket dropshipping store.
1. Picking A Good Niche
Finding a good niche is important to the success of your online store. If your product focus is too narrow, there may not be a large pool of buyers. On the flip side, if your niche is too wide, you'll have a hard time marketing to one perfect customer audience.
There's a big debate over finding the perfect niche. Some coaches will tell you to follow your heart and pick a niche you're passionate about. Others will tell you to review the data to find a niche that is profitable.
Let's look at both of those options.
Choosing a niche based on passion
On the positive side, it's great to find a niche that you are truly passionate about. Not only will your enthusiasm drive your business forward, but you'll be able to build an audience more efficiently if they sense that you actually care about the niche. It's also incredibly helpful to have personal knowledge or experience in the field–you should feel confident in your ability to provide quality advice and products.
On the negative side, there may not be as many people as passionate about your niche as you are. There may be no profitability in the niche. You may not be able to find manufacturers or distributors to procure the products in a niche you are passionate about. When considering your niche, make sure to run it through the research phase to make sure you're choosing a niche that should be successful.
Choosing a niche based on data
Picking a niche based on data means you are looking at different product ideas even if you aren't familiar or passionate about them. When I picked a niche for my high-ticket dropshipping store, I researched and compared 10 random high-ticket niches. These niches covered a wide range of very different products including kitchen appliances, electric fireplaces, stun guns and baby bedding.
My main focus was to make sure the niche had high-ticket products, was trending well on Google, had other stores selling the products, had less competition advertising on Google, and was dropshipping friendly. To learn more about picking the best niche, checkout the Dropship Lifestyle method for validating a great niche.
Research the competition and make sure there's a market for what you're selling.
Finding potential product ideas is only the first step of the entrepreneurial journey; research is next. It's important to thoroughly assess how much competition exists and make sure there's an audience out there that wants what you're offering. You'll want to make sure there is a large enough search volume for the products you want to sell.
You can use free tools such as Google Trends to do a quick check on the traffic potential and see if the niche has any seasonal trends.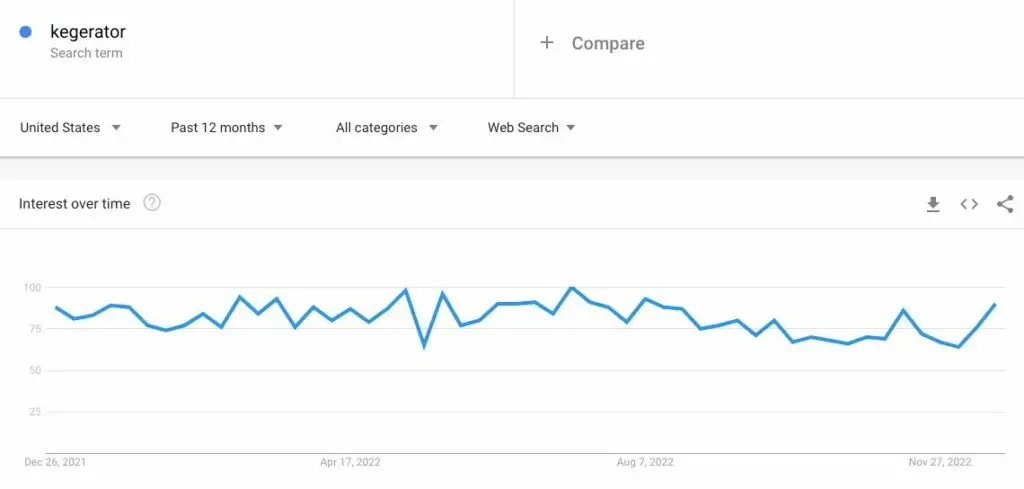 Relying on market research lets you determine whether investing time and resources into a product or service will be worth it in the long-run. At the end of the day, this examination of what competitors are doing right – and wrong – can inform your own strategy and help give your business the edge it needs to thrive.
Finalize your niche
I used some of the following tools to perform my research: Google Trends, Google Shopping, AHRefs, Ubersuggest and the good ol' search engine. Once I narrowed down the niches to the top 2 that fit all my criteria, I chose one that I thought would be the most fun to learn about and sell.
A successful dropshipping business takes a good niche but it's important to not get into analysis paralysis. It shouldn't take months to pick a niche. Get the research done and make a decision. You can always pivot as you build your e-Commerce store.
2. Find High-Quality Suppliers
Finding great suppliers for your business is one of the most important steps you'll take. If you want to maintain a competitive edge in your market, finding high-quality suppliers who can provide you with higher profit margins is paramount.
Because you will be selling the same products as your competitors it's important to discuss MAP pricing.
MAP pricing stands for Minimum Advertised Price. It is a pricing strategy used by retailers to ensure fair market competition and maintain the brand's perceived value. MAP pricing sets the lowest price at which a product can be advertised publicly, preventing retailers from competing solely on price. This type of pricing also helps protect the profits of manufacturers and resellers.
It is important to note that retailers are not restricted from selling products for a lower price than the MAP price, as long as this pricing does not appear in public advertisements or marketing materials. MAP pricing provides a balance between consumer value and profitability for both manufacturers and retailers. It helps to ensure fair competition while also protecting brand value.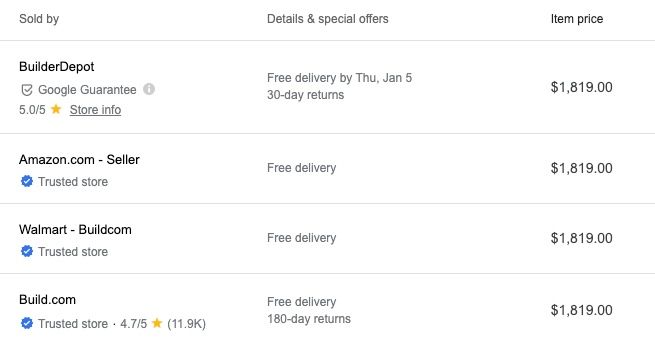 If the manufacturer's products do not have MAP pricing, resellers will often get in a price battle by continually lowering the prices on their website. This only devalues the product and eventually results in no profit from the sale of those products. Ultimately, it is up to each manufacturer to decide whether or not to implement MAP pricing. You want to make sure the manufacturer's you choose set and enforce MAP pricing.
3. Choose A Platform For Your Store
Your new online store needs a home. There are several platforms available that make it easy to setup an e-Commerce store. One of the most popular is Shopify and that's the platform I used to build my store.
Shopify offers an easy-to-use platform to help you create a beautiful and functional online store. With an intuitive drag-and-drop interface, customizable features and hundreds of professionally designed themes, Shopify gives you everything you need to create a successful e-Commerce business. One great feature is that you can get a Shopify trial to determine if you like it before committing to monthly payments.
Other popular platforms include WooCommerce (which turns your existing WordPress site into an e-Commerce store), BigCommerce, and Magento. Each platform has its own pros and cons, so it's important to do some research and decide which one is best for your business.
No matter which platform you choose, make sure it provides all the features you need to run your store. For example, look for a platform that offers secure payment solutions, excellent customer service, and a wide selection of themes and plugins. Additionally, read reviews to see what other users think about the platform.
Finally, make sure you budget for any additional fees or subscriptions associated with the platform. Many platforms offer a free trial period so you can test out the features before making a commitment. Once you've done your research and chosen the right platform for you, it's time to start building your e-Commerce store!
4. Create Unique Product Listings
Have you ever scrolled through an online marketplace looking for the perfect product only to find boring, impersonal listings? Chances are you quickly moved on to another seller who put in the effort to create unique and attractive product listings with clear images, videos, and interesting descriptions.
By investing a little time into making your product listing stand out from the crowd you'll be more likely to capture customer attention and drive more sales! It is important not to forget that fresh, high-quality content will always outperform stock images or low-effort descriptions.
Take some extra time to craft your listing into something customers won't want to skip over. Create attractive and unique product listings that include images, videos, and detailed descriptions that are different than the standard manufacturer's listing.
5. Use Effective Marketing Techniques
It can be difficult to get potential customers through your doors, but effective marketing techniques can help you reach the right consumers and keep them interested. High quality visuals are essential for engaging shoppers, so create visually appealing campaigns that draw attention to your store and brand.
Most dropshippers start by running Google ads because it is an easy way to get potential customers to find their store. While this is a great way to get started, it also requires an up-front advertising budget.
Digital marketing can utilize a variety of social media platforms to get your messages out. Post frequently and use the platforms' targeted ad features for maximum visibility while building your brand. Facebook ads are popular for some niches and do very well with certain types of products.
Additionally, your marketing efforts should include building your email list. An email list filled with subscribers from your customer base is an easy way to engage with your audience. As you create blog posts for your niche or add new products, you will send notifications to your email list to further build connection and trust with your followers.
By employing good marketing strategies to drive traffic to your store and convert visitors into customers, you'll be setting your store up for success.
6. Provide Great Customer Service
Once you get customers to your store, it's important to keep them. Providing excellent customer service will help to keep your customers satisfied and coming back for more – so it's important to get it right!
Put yourself in their shoes, and always make sure that you take time to listen to their individual needs. Find ways to exceed expectations and show them appreciation in unique and meaningful ways. Remember that a small gesture can go a long way towards creating positive experiences that will encourage your customers to return again and again.
Delighting customers should be a key focus for any business that is aiming for success. Provide excellent customer service to keep your customers happy and encourage them to buy from you again in the future.
Let's Sum Up How To Build A Dropship Business
Starting a high ticket dropshipping business is a great way to make money online. But it's not something you should just jump into without doing your product research first. Make sure you choose a niche with the right price point and a great target market.
Do your research to see if there's a market for the high ticket products you want to sell to your target audience.
Find high-quality suppliers who can provide the best products in the price range you want.
Select a platform and setup your store.
Create attractive product listings with images, videos, and detailed descriptions. Use effective marketing techniques to drive traffic to your store and convert visitors into customers.
Use effective email and marketing techniques to gain trust with your audience.
Provide great customer service to keep your customers happy and encourage them to buy from you again in the future.
Building and scaling an online e-Commerce store is highly viable IF you put in the work. It is not a get-rich-quick business model. You are building a real business which requires plenty of work and some long hours! If you want to follow the same proven system I did, check out Dropship Lifestyle!
Dropshipping FAQs
Is High-Ticket Dropshipping Profitable?
The answer to this question is yes! High-ticket dropshipping can be immensely profitable. There are numerous high-ticket items that you can source and sell, such as expensive electronics, furniture, patio furniture, and even electronic bicycles. With the right marketing strategy and dedication, you could potentially earn a very healthy income from your high-ticket dropshipping business.

When it comes to high-ticket dropshipping, you must be very careful in selecting the products that you offer. You need to make sure that there is a sufficient demand for the items, and do your research to ensure that the supplier can deliver quality products on time. Additionally, since you will be competing with many other resellers, your selected high-ticket items must come with MAP (Minimum Advertised Price) adherence so that your pricing is competitive with other online stores and brick-and-mortar sellers.

When it comes to your marketing strategy, you'll want to focus on targeting affluent customers who can afford high-ticket items. You could use traditional advertising methods such as print and radio ads, but it's more common to use digital strategies such as social media campaigns and search engine marketing. Additionally, you could work on building relationships with bloggers and influencers who can promote your products to their audience.
What are the Advantages and Disadvantages of High-Ticket Dropshipping?
Advantages
Minimal upfront cost
No inventory to store or manage
Shipping often handled by distributor
Higher profit margins than lower-priced items
Higher average order value (AOV)
High-end customers who are willing to pay a higher price for high-quality products
Less customers needed to make a good profit
Disadvantages
May be difficult to find the right supplier willing to dropship orders
Harder to sell to price-sensitive customers
High priced orders carry more risk when shipping
Higher chance of freight and delivery issues with heavier products
High cart abandonment rate due to higher pricing
May have increased customer phone calls before ordering
Competition with large brick-and-mortar stores
What are High Ticket Items to Dropship?
The price range for products to consider for high ticket dropshipping is typically around $500 and up. High ticket items considered for dropshipping can include anything from luxury goods and electronics to furniture, home decor, outdoor furnishings and appliances. With these types of products you can earn a higher profit margin as they are priced much higher than other consumer goods in general.
In order to find high ticket dropshipping items it's important to research your niche, know your target audience and analyze the current market trends. You should also have a good understanding of the product quality expectations so you can deliver items that meet or exceed those standards. Ultimately, it's important to find products that people are willing to pay for and that align with your own business goals.