Chassie is a furniture studio founded in 2019 by husband and wife team, Andrew and Jane Daines. Andrew and Jane believe that you'll be more creative and productive if you do your life's work from a workspace that is beautiful, functional, and uniquely you.
Each piece made by this duo includes an original and exclusive art print by one of their artist collaborators. Beneath the surface their products are loaded with technology and features for maximum getting stuff done. Chassie is a company dedicated to bold design, creativity, productivity, and sustainability. 
We took a look at their featured desks and here are 5 of our favorites:
About Chassie 
Founders Andrew and Jane are deeply connected to and involved with each customer and each piece sold. They directly handle the production and packaging of Chassie products at their incredible design studio located in The Bronx. They personally reach out to customers for feedback and even occasionally make surprise home deliveries and installations for New York City customers. This personal touch, combined with the beauty and high-tech features make Chassie truly the world's most creative and inspiring home office desk.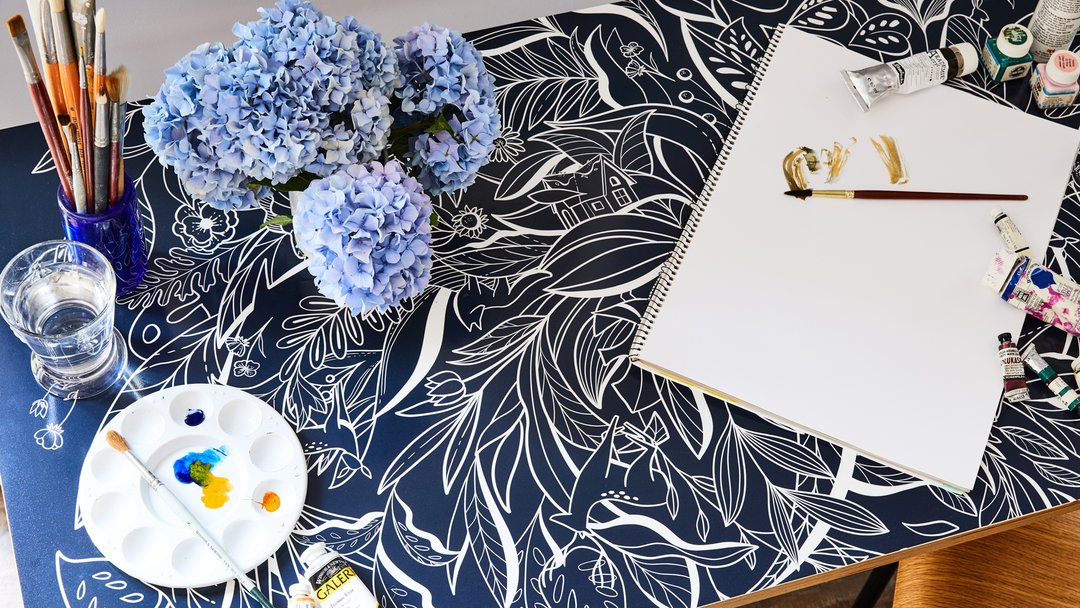 Creativity At Work With A Chassie Desk
Every aspect of the Chassie desk is designed to make you not only more creative, but more productive. With your carefully chosen art print top you know that this is your space.
Need to make a quick note or noodle on an idea? Grab a whiteboard marker and work it out on the whiteboard marker safe desktop? You'll also enjoy the feeling of knowing that this desk was made just for you. Its custom size and measurements, cut specifically for you, mean that it will fit perfectly into your space.
Chassie prides itself on giving their customers everything they want and nothing they don't so that they can get to work. 
Doodle On Your Desk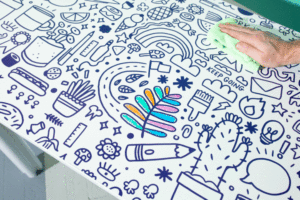 Often forgotten about the Chassie desk is its ability to be used as a whiteboard. While there are other whiteboard desks on the market, Chassie makes the only art-print whiteboard desk.
No matter the art print you choose, you can pull out a whiteboard to doodle, jot down your next big idea, take a quick note, or make today's to-do list. The surface wipes totally clean – no residue – and is ready for your next scribble.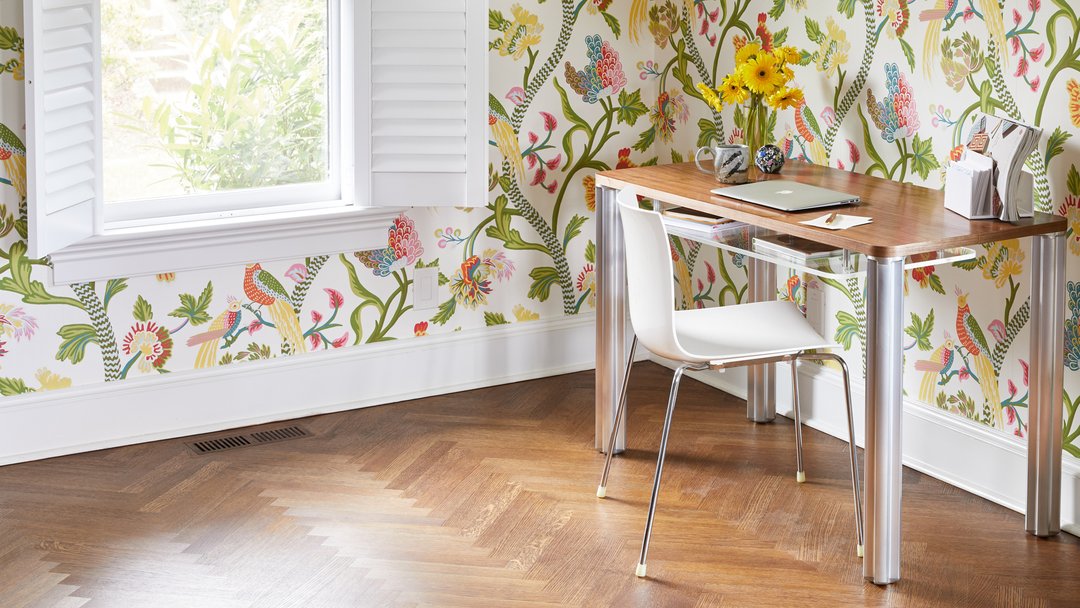 Customization 
One huge benefit working with Chassie is the chance to get exactly what you want. Chassie designs and manufactures each piece themselves from their studio in the South Bronx.
Before or after you make your order you can reach out to them with any specific needs. Need the your invisible wireless charging pad on the left side instead of the right? They can do that. Need your desk just one inch narrower to fit into that nook in your room? They're happy to help. 
Chassie's unique ability to customize your desk is truly different from other desk companies. Most other desk sellers are just that – sellers. They don't make the item. It might come from a third party or a faraway place, already boxed, unable to be altered. Chassie is completely different.
The moment your order comes in, Chassie gets to work. With your exact needs and specifications in mind, they use their advanced robotic manufacturing equipment to cut a desk just for you. But how is this possible?  
Chassie keeps an inventory of art prints on large sheets of FSC certified Baltic Birch Plywood. This allows them to add an inch here or there, move pieces around, or even do more special customizations. The team at Chassie is happy to do this and rarely charges for this service, so make sure to inquire about customizing your desk to your specific needs. 
Invisible Charging: Wireless Charging Re-Imagined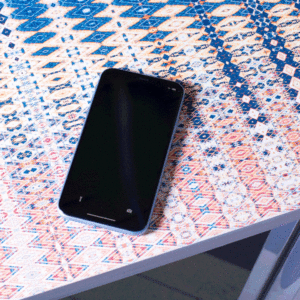 You've seen the normal wireless chargers. Even though the inductive charging coils mean you don't have to plug the wireless charging pad into the fun, the ugly cable
 of the pad itself is still out there. Chassie has re-imagine this. Rather than stick an ungly wireless charging pad on top of the desk's beautiful art print top, the wireless charging coils are inside the desk.
The wireless charging pad is carefully built into the wood, just beneath the surface, so that all you have to do is put your phone down on the magic spot. You won't see any cables or ugly wireless charging pad. The simplicity of the solution is amazing, useful, and loved by customers. It's a must-have add-on to any Chassie desk. 
How is Chassie sustainable? 
Sustainability is at the core of the Chassie Desk design. The company's design principles include simplicity, reliance on renewable resources, and local supply chains. 
99% of the material in the Chassie Desk is two things: aluminum and baltic birch plywood. The conscious choice of aluminum for the desk's legs was made because this is one of earth's most common element and infinitely recyclable, unlike plastics or recycled wood fibers.
Chassie's desk legs are made of 100% recycled aluminum and can themselves be recycled. The baltic birch plywood selected is FSC certified, meaning the Forest Stewardship Council has analyzed the forestry practices used and designated them sustainable and responsible. Birch is a fast-growing, robust timber that has the added benefit of being the best possible material for inkjet printing. 
Unlike many other desks on the market, the Chassie Desk is made in the US and has 95% of its components coming from within 100 miles of their production facility in the Bronx, New York. The close proximity of Chassie to their supply chain allows for frequent inspections for labor and sustainability practices. Being nearby also greatly reduce transportation costs and carbon emissions. 
Meet The Artists
When you visit Chassie's website you'll see how much they work with and love their carefully selected artist collaborators.
Each artist has created one or more original and exclusive designs that only Chassie is authorized to transform into furniture. These artists' portraits, stories, ideas, and works are inspiring, giving each desk a story and meaning far beyond a traditional laminate or wood desk.
Chassie is dedicated to rewarding their artist collaborators for their remarkable work. With each desk sold the artist receives a royalty payment. 
Built to Last 
Chassie desks and tables are built to stand the test of time and move with you as life takes you to new places. All desks are guaranteed to be assembled and disassembled at least five times (and usually many many more) without breaking apart or having dowels or screws tear out.
The design achieves this unique durability by going the extra step of including threaded inserts where other companies would put a dowel or wood screw. When you go to connect a Chassie leg to the corner of the table during assembly you'll feel the bolt make a firm, metal-to-metal connection with the threads in the table top. This screwing and unscrewing can be repeated un unlimited number of times so the desk can move with you throughout your life. 
Warranty & Returns: Chassie Stands Behind Their Products
Chassie is all about designing and manufacturing "forever furniture". There are no fees to repair or replace any item that is covered by their five-year warranty. Customers benefit from a 30-day no-questions-asked return policy. 
Picking The Right Chassie Desk
Chassie designs are bold. Finding the right art print, colors, sizing, and tech features is a process that starts with a visit to the company's website and often times includes a call or videoconference with the company's founders. They know that this is a piece of forever furniture that will live and move with you throughout your life. They also know the desk is a central place in your life – if you're like many others you might spend up to a quarter of your life at the desk. Take your time, read the artists' stories, collaborate with the company's founders and truly get you want and need out of this critical part of your home office. 
About The Founders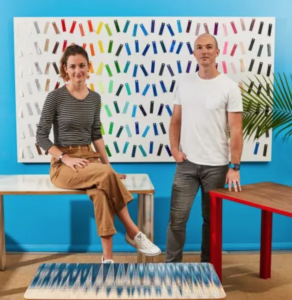 Jane and Andrew Daines are the Chassie duo who left careers in tech and e-commerce to make furniture. Before Chassie, Andrew was traveling the world providing technology and communication systems to race car drivers in NASCAR, Formula 1, and IndyCar. From custom headphones to mission-critical radio systems and telemetry transmitters, Andrew's equipment was designed to make the difference.
The precision, quality, and high-tech craftsmanship learned from racing inform every aspect of Chassie production. Now Andrew handles every aspect of Chassie production. He programs the company's robotic cutting machines, and sanding and oils each desk's edges with great care, loving every minute of it. 
Jane spent six years at Warby Parker making the trains run on time. If the company needed millions of new boxes or cases, Jane was on it. If they needed to create new systems and methods for improving the website, that was her job. At Chassie, Jane handles pretty much everything other than production. She works directly with customers, vendors, and delivery companies to make sure everything is where it needs to be when it should be.