Ergonomic mice are highly beneficial for people who work in front of a computer all day and struggle with wrist, hand, and finger pain. Finding the best ergonomic mouse for your home office or for your employees can be a difficult task with so many to choose from. We evaluated these mice on their price, ergonomic fit, battery length, and many more variables.
These ergonomic mice allow the hand to grip the mice in the most comfortable and healthy ways to prolong your overall good health in your hand and wrist. Here are our top 10 reviews so you can find the best ergonomic mouse for your WFH setup:
How To Find The Best Ergonomic Mouse
When buying a mouse one of the core attributes it can have is whether or not it has built-in ergonomic features. Ergonomic features have different attributes, including the direction by which your hand holds the mouse, the angles of the mouse, and built-in buttons that reduce strain on your wrist and forearm when using it. This guide will walk you through different ergonomic features and functions so that you can make an informed buying decision.
One thing of note: once you have decided which ergonomic features you care most about, also consider other fundamentals of the mouse and its use. Some mice are built for right handed people, others for those that use their left hand. Likewise, some mice are built for certain operating systems – like Windows of MacOS – and are not compatible across multiple systems. So please be mindful of these core features too as they will impact your experience using any of the above ergonomic mice.
Wrist And Finger Controls And Types Of Mice
The first thing to consider when buying an ergonomic Mouse is what kind to purchase. There are ergonomic horizontal mice, vertical mice, and trackball mice. Each is similar but has core differences. Let us examine these differences. A horizontal mouse is a popular mouse because  you will likely be familiar with its design and how to use it. A horizontal Mouse fits comfortably in your hand and is placed flat on your desk or mouse pad for use.
A vertical mouse, in contrast, has steeper sides. This enables you to reduce tension on your wrist, primarily using the mouse by moving your fingers. As such, you will notice fewer movements of the wrist, which can reduce lower arm pain over time and the probability of developing early-onset carpal tunnel syndrome. The third popular ergonomic mouse is called a trackball mouse. When using a trackball mouse, the base of the mouse remains static. The user can roll a ball to control the cursor, and this ball is embedded in the middle of the mouse.
Working Or Gaming Or Both
Some mice are optimized for work. Others are optimized for work and playing games. If you are a gamer, and want to use this one mouse for playing games, you would be wise to select a mouse that has embedded buttons which can enable you to easily control the game at your fingertips.  For example, the Logitech Ergo Mouse has a built-in adjustable hinge. This hinge enables you to tilt the mouse which can reduce pressure on your fingers and wrist while playing games.
The hinge can also be set at 0 degrees if you are using the mouse for work computation and typing. Carpal tunnel syndrome can be very painful, and often starts with weakness, tingling, or numbness in your fingers or wrist. A vertical Mouse greatly reduces the amount of pressure on your hand, which can mitigate strain on your arm and forearm. An ergonomic mouse not only empowers you to do good work, but it can preserve your health over a long period of time.
Fit And Finish
There are simple tests you can conduct to ensure you are buying a mouse that best fits your hand. You should be able to hold the mouse in your flat hand without having to squeeze your fingers too tightly and you should be able to click the buttons (or scroll wheel) without reaching. An ergonomic design is critical if you want to maximize for comfort over the long haul; but so is the size of the mouse relative to your hand. Keep that in mind when evaluating your next mouse purchase.
You should be able to click all built-in buttons on the mouse without scrunching up your hand too. Just like a mouse can be too big, it can also be too small. For most users a standard mouse will be somewhat symmetrical unless it's a vertical mouse. The trackball mouse enables you to keep your arm stationary and leverage your fingers more.
Wired And Wireless
Some ergonomic mice connect via a cable to your computer, monitor, or external display. This has no bearing on its ergonomic abilities. However this comes down to a personalized choice: do you want your mouse to connect via Bluetooth or pairing, or do you want the mouse to connect to your computer through a cable. If the mouse is not connected, it may need to be charged. Some mice leverage batteries that are reusable (i.e. AA) while others require the entire mouse unit to be charged without taking the batteries out. These are additional things to consider when reflecting on the mouse you should buy, although this aspect of a mouse won't impact how it feels in your hand.
Ergonomic And Health Information
Our hands and fingers are used for almost every single task we do each day. Yet, many people neglect to take care of them properly. Our hands are composed of some of our smallest bones and muscles. They work intricately in unison to give us our unique dexterous ability. When our hands work optimally and without pain, it is easy to forget how much they do for us. But, it is important to be proactive to ensure that our hands don't deteriorate over time. We must examine what activities we do most often and set our wrists, hands, and fingers up for long-term health and mitigate any risk for developing pain or injury by performing those activities repetitively. 
One of these activities, as I mentioned, is using your computer mouse. While you may not have realized that this simple task is worth taking a closer look at. It could pose a serious risk for your wrist and hand health if you are not using an ergonomically sound mouse. First, it is important to understand what position your hand, wrist, and fingers should be in most of the time in order to protect the local anatomical structures.
Optimal Finger, Hand, And Wrist Positioning While Working
For every structure in the body, there is a position in which the local boney junctions are most congruent, the surrounding muscles are neither stretched nor on slack, and the supporting ligaments are not stressed. This positioning is called "neutral posture".  It's the ideal position our hands should maintain when using a computer mouse in order to prevent injury. It is important to understand what a neutral posture looks like in each of these areas. Doing so, we can choose a mouse that helps support this positioning.
We want our wrists to lay in a position where they are not bent forward, backward, to one side, or rotating in any direction in order to use a mouse (see image below). This is especially important because there are so many structures that pass through the wrist (where your carpal tunnel lies) that can get compressed or irritated if your wrist is chronically outside of neutral posture while using your mouse. These structures can also become irritated if there is constant pressure on the wrist. When irritated, the wrist compresses the underlying structures. It can lead to various symptoms associated with carpal tunnel syndrome. This includes numbness or tingling in the hands, weakness in the fingers, or a painful, burning sensation. 
Suboptimal wrist positioning can be propagated by using the trackpad that comes with your laptop. Using an accessory mouse that is too small can also hurt. If you use your laptop trackpad, then you are mostly likely keeping constant pressure on the structures on the inside of your wrist. You may subconsciously assume an "awkward wrist posture" in order to comfortably use the trackpad. Similarly, if the mouse you are using is too small, then you will have to deviate from neutral wrist posture in order to grip the mouse within your hand. 
One way to promote a neutral wrist posture is by using a vertically structured mouse. One where your thumb rests higher than your pinky on the mouse's surface. It is virtually impossible to deviate from a neutral wrist position with this type of mouse. There is no need to move your wrist in order to access and utilize all of the mouse's features.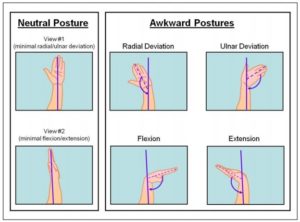 Structures within the hand and fingers are in their most optimal posture when your hand is in a relaxed. Therefore, a mouse that promotes a more closed grip position should be avoided. This, too, can be caused by having a mouse that is too small for your hand.
It is also significant to use a mouse that requires as little repetitive movement as possible. Your mouse should be structured in a way where your muscles can be turned off most of the day. Therefore, a mouse that is large enough to support a relaxed, opened position, is ideal. One that allows you to maintain that position while you click and and move the mouse around is best. This is not always possible when your mouse is laid out in the standard horizontal fashion. Or, if you're using a small mouse where you have to slightly lift your hand or curl your finger up to click. Similarly, a trackpad is not ideal as it requires a significant amount of finger movement. These repetitive movements, albeit very small, can lead to injury of the muscles in the hands or fingers over time.
More About Carpal Tunnel Syndrome
Your carpal tunnel lies in the junction between your wrist and your hand. The bottom of the tunnel is composed of the small bones in your hands. These are called your carpal bones, and are closed on the top by a thick ligamentous structure known as the transverse carpal ligament. Despite this enclosed space being very small, it encases nine tendons and the median nerve. It is no wonder why these structures are so easily irritated.
There are a number of factors for why someone may develop carpal tunnel syndrome. These include: pregnancy, individual differences in anatomy, some chronic conditions that impact the nervous system, certain medications, obesity, and work-related factors. All of these potential causes lead to increased compression on the carpal tunnel. This negatively impacts all of the structures enclosed within it. However, it is the irritation of the medium nerve that leads to the hallmark symptoms associated with carpal tunnel syndrome.
It is also important to note that the median nerve originates from nerve roots stemming from spinal cord, travels through the shoulder, down the arm, passes inside the carpal tunnel, and ends in the hand; but carpal tunnel syndrome only refers to the irritation of the median nerve at the carpal tunnel. The nerve can be irritated anywhere along its path and can lead to a similar symptom presentation as carpal tunnel syndrome. But, it is not technically considered carpal tunnel syndrome if the nerve irritation doesn't occur in the carpal tunnel itself. While this may sound complex, it is actually a great thing to know and understand. With this knowledge, you can investigate why your symptoms may not be improving.
There are multiple areas along the path of the median nerve that are common points of entrapment. These areas could be causing negative symptoms. One of these areas is at the pronator teres muscle in the forearm. Another possibility is nerve irritation in the shoulder region. This could stem from sitting slumped over with your shoulders forward and rounded. This compresses the area where the nerves travel through. Nerve irritation at any part of a nerve increases the likelihood of entrapment or inflammation. 
Ways To Relieve Pain In The Wrist and Hand
A full evaluation by your physical therapist or physician is needed to determine what the exact cause of your pain is. But, there are a few general practices you can engage in. These will help the health of the structures in your wrist and hand:
Schedule 1 minute breaks from typing and using your mouse every hour throughout your day. Even better – use this break to stand up and stretch your legs. Then re-adjust your posture when you sit back down to work.

Perform

median nerve glide stretches

before and after you start your work day. The goal of these exercises is to floss your medium nerve through the structures it passes through  to prevent it from getting stuck or entrapped anywhere along its course. 

Perform a

doorway pec stretch

for 1 minute before the start of your work day. This will help to open up the front of your shoulders and make more ample space for the nerves to pass through.

Invest in an ergonomic office chair, keyboard, and mouse. As I'm sure you've gleaned from this article, the health of each part of our bodies impacts another. It is vital that the space where we spend a large majority of our time is conducive to a healthy body, which is only as strong as its weakest part. We must take care of our hands as much as we take care of our back, shoulders, and neck in order to ensure we live a long, pain-free, and healthy life.
Kevin is a WFH veteran. He has spent the better half of the past decade traveling the world while working remotely. Kevin has recently settled down and stopped traveling frequently, but continues to work from home and has created a spectacular home office. He loves reviewing new products for his office and sharing his insights so that people can improve their home office experience.