Commercial real estate has long presented an investment opportunity at every level, from owning properties to investing in things like REITs and ETFs with commercial real estate exposure. While commercial real estate can help you realize significant returns, it's not without major risks.
During the COVID-19 pandemic, we saw some of those risks in action in the most impactful ways. Offices and commercial spaces were completely cleared out as shutdowns and stay-at-home orders were enacted. Central business districts were devoid of people for months and, in some places, years. Now, however, businesses are finally bringing workers back into the office, and the hope is that commercial real estate will experience a resurgence. 
The following are some of the trends worth focusing on as far as commercial real estate right now.
Increases in Small Business
In 2021, there was a 24.6% increase in new small businesses in the U.S. There was a shift from traditional business that also contributed to a shift from traditional office spaces. With that in mind has come a growing sense of attention to shared office spaces. Also known as office sharing, real estate management companies with large commercial spaces will offer smaller spaces to small businesses. A lot of different people could work around you in these settings, but they're usually in a private, enclosed office. 
Shared spaces can be an ideal solution for a lot of small businesses. Startups may need a dedicated workspace for things like meetings but do not need a permanent office space. These small businesses can avoid the high rental rates of a large office and maintain low costs of overhead.
Shared office space isn't the same as a coworking space. These tend to have a more open layout; with big desks and meeting rooms you can reserve. You could be sharing a desk with an entrepreneur, freelancer, or contractor at any given time.
The pandemic has brought with it a transition to remote and hybrid workplaces, but even so, the office market is showing signs of rebounding, largely because of hybrid returns to the office. The role of offices is changing, but even so, they appear poised to remain part of the economy in the U.S.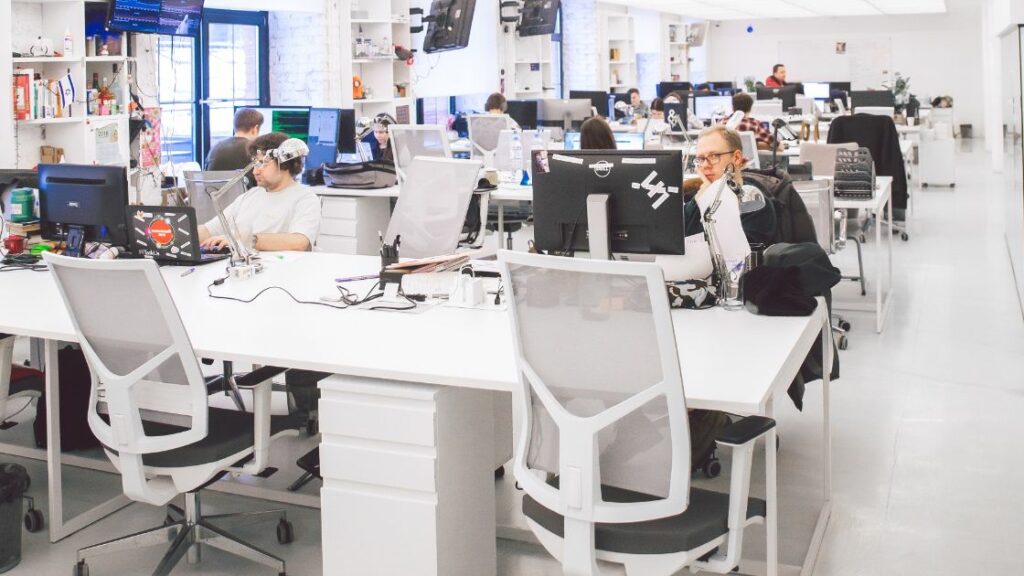 Price Increases
As is true with other types of real estate, commercial prices have been rising. According to Green Street's Commercial Property Price Index, prices were up 24.4% year-over-year in 2021. The industrial and self-storage sectors saw the biggest increases, with offices and malls seeping the lowest. Overall, from pre-pandemic levels, prices were up 8%.
Even as prices have been rising, companies are still looking for ways to cut costs and, of course, boost their profitability. Cost reduction is a priority initiative based on research from Deloitte. Building managers have seen increased costs on their end because of having to implement health and safety systems, but some investors have been taking on the challenges of making buildings ready for the post-COVID world. 
Technology that can streamline processes, boost efficiency and centralize information is a big trend in commercial real estate at the moment. 
ESG Transitions
Environmental concerns are a big priority for people in every part of life. Environmental, social and governance-related considerations are no longer something just being talked about in theory. These are practices being made into reality. Around two-thirds of investment management firms now have ESG standards as part of their investment criteria, especially with a focus on environmental factors.
In commercial real estate, environmentally-friendly initiatives can also lower operational costs and improve profit margins.
ESG certifications can also open up opportunities for more selective tenants, better lending deals, and new funds.
Ghost Kitchens
During the earliest days of the pandemic, restaurants were forced to close down operations to adhere to restrictions. They then moved toward revenue-generating models involving pickup and delivery. Once restrictions were lifted, restaurants were still dealing with cash flow-restricting variables like low consumer confidence and seating restrictions. This was all paired with the notoriously high overhead of running a restaurant, including rent.
Ghost kitchens started popping up as a means to combat some of the overhead costs. These are facilities where food is prepared onsite and then delivered. There's no cost to build and maintain a dining room, plus ghost kitchens don't have to hire servers.
This trend in terms of commercial real estate gives property managers expanded leasing options. The space needed to operate a ghost kitchen is much smaller than a restaurant.
Inflation's Effects
Inflation is currently at multi-decade highs, and markets are heavily weighing the possibility of a recession. As growth slows along with inflation, there's a fear of prolonged stagflation. So how do these economic factors affect commercial real estate?
Traditionally, real estate is a natural inflation hedge, and it's a good place to put money during uncertainty. Investors can minimize some of the risks of a recession if they move money into hard assets. 
In commercial real estate, the multi and single-family residential markets are still hot. Multi-family sectors have largely recovered from the pandemic's effects, and the exodus from urban centers seems to be slowing. Multi-family vacancies in major cities like Los Angeles seem to be returning to pre-pandemic levels.
The high price of a single-family home is leading to increases in demand for larger rentals that have workspaces. Sales of new construction homes have started to slow as the mortgage rates are increasing.
Borrowing is becoming more expensive, and that means corporations are going to have to deal with less liquidity. That will mean fewer buyers in the market. Amazon has already announced it's going to scale back investment in industrial properties and leasing, and other eCommerce companies may follow.
For investors, this could mean to keep an eye on retail shopping centers that have tenants selling essential goods. Institutional investors are finding these commercial properties more appealing because they provided stable returns during the pandemic. As a result, some commercial retail properties should still present opportunities for investors, even in the face of soaring inflation and other economic challenges, but primarily the ones that are providing those most needed items to consumers.